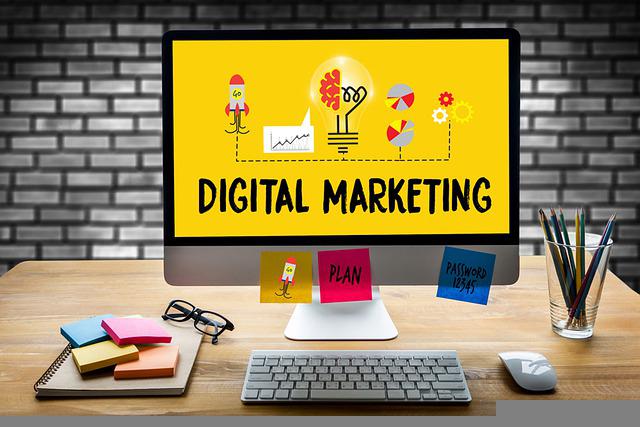 10 Digital Marketing Tools You Need When Starting A Business
We live in a world that runs on the internet and social media trends. Doing business was not as easy peasy as it's in today's world. Therefore we recommend the essential top 10 digital marketing tools you need when starting a business. Keep reading to know more.
Top 10 Digital Marketing Tools You Need When Starting A Business
There are many tools to help you in business, especially if you are doing digital marketing. Today we will discuss the top ten tools that will be highly beneficial for your commercial endeavors.
1.  Hubspot
It's the world's top CRM (Customer Relationship Management) tool. This application lets you manage your complete business's digital marketing needs. From data analytics, leads that are both organic or by paid advertisements. Furthermore, SEO, blogging, email marketing, social media presence, etc.
Hubspot has over half a million certified users and a presence in more than 130+ countries. This tool can be divided into many separate tools available throughout the world, such as:
a. Marketing Hub
This tool is one of the most in-demand. It lets you track your leads and can easily make way for blogging, email marketing, and diversions from landing pages. One of the marketing hub's biggest advantages is that all your business campaigns are aligned through one app.
Tracking the investment, you put into your marketing campaigns is only one click away. Advance marketing strategies are ready to be adapted and incorporated easily. It will cost you $3200 US per month for enterprise use. Although if you are a new startup, this is also available in the sub $400 US price range.
b. Sales Hub
This is one of the easiest sales tools available. It can track your sales performance and also can highlight gaps. This software costs from $45 US to $1200 monthly for big enterprises.
This app is an email marketer's favorite one. It can easily manage all the stuff and output from your campaigns running and dormant ones. All the conversion, queries, and negative feedback are fetched back easily for improvements. Therefore, providing real-time base evaluation and improvement segments.
c. Service Hub
A service hub is best used for customer services centers. These tools prioritize your customers and let you take care of their needs as most organizations want to provide first-class assistance to their leads and future customers; therefore, it's considered the best.
d. CMS Hub
It's used for the content management system. Managing your content suited to your business and type is mandatory online. Therefore, this tool lets you design a web page without knowing basic programming. There's no need for you to learn the codes. This software directly handles all the aspects.
e. Operations Hub
This tool lets your business transform into automation, as it is the necessary tool to make your online business-aligned for synchronized automation as much as you can. This software excelled at making workflow streamlined and management easy. Thus you can achieve efficient task completion and assignment.
Although Hub Spot and its affiliate software are used widely, they are best suited for big organizations managing bigger tasks. For startups and small organizations, its an overkill.
2. Mail Chimp
Your business all email marketing requirements can be fulfilled by this tool. It is simple to use and navigate and provides easy access and usage. This software has many options, such as for smaller companies or business startups; it's free. Further benefits can also be availed from essential, standard, and premium versions. Using Mail Chimp can provide you best free email marketing tools to save your time and money.
You can send customized and automated emails to different customers for segmentation. One of the biggest advantages is its predictive customer list that might become your regular customers. If you want to ensure your business grows from email marketing campaigns, use it as much as possible.
This software is suited for all types of organizations, from big corporations to average and low-tier ones. Thus making it a perfect all-rounder for many businesses at once.
3. Ubersuggest
This software is a perfect match for startups if they have not chosen any good keywords, as digital marketing requires a perfect matched keyword for your business. Your work regarding choosing the right one will result in good traffic and eliminate the brainstorming linked with keyword selection.
It's an easy tool with a simplified dashboard version readily available for your help. This tool also suggests a better keyword that will rank your business higher and also has less competition.
Best for all types of new ventures and businesses across many platforms. Integration for use on any system or OS is also quite an easy one.
4. Trello
This tool is used for project management and task assignment. Managing and keeping an eye on all the tasks is not easy, even if your organization is on a smaller scale. This tool gives insights into how marketing management has evolved over the years .
Utilizing a tool suited for any business requiring effective and efficient project delivery is important. Trello ticks all the boxes by doing just that. The important task in your business projects is frequently highlighted and reminded to the assignee.
Trello enhances your business productivity and further strengthens the hierarchy. The assignments can be assessed easily, and all the updates can be monitored efficiently. This tool is designed for remote operation and, therefore, can be used across many departments.
Project management in any starting business is a vital step for successful execution. Easy software to use in many projects led by one person or one big project with many project leaders is best advised to use Trello.
5. MobileMonkey
This tool is a modern-day social media-infused marketing business promoting platform. The software is quite easy to use and best for all social networks. Mobile money has made a name in the advertising world on the social platform.
Mobile money is a popular software used primarily for building a chatbot service across all the social media platforms such as Facebook, Instagram, etc.
Creating a chatbot used for conversation with the customer's queries serves as the mediator towards your incoming traffic or leads.
As with most Facebook and Instagram advertisements, it is essential to have a chatbot to divert the traffic toward your webpage. Even for the people who have absolutely no knowledge about creating one.
Engaging your audience in a business-centric manner is too important for long-term success. Mobile money has many tools that are separately available such as the following:
a. FunnelPro
This tool accelerates the automation in your lead generation process. Integrating the bot with your Facebook and Instagram ads improves the lead quality and target audience approach.
If your business has all the messaging platforms such as Facebook Messenger, Instagram, and simple text message services, they can all be compiled into one big inbox.
Serving you 24/7 and 365 days a year non-stop. FunnelPro also uses a customized leads filter, thus giving you clean and reliable data. Conversion of these leads can result in quick business growth.
b. Instachamp
This tool is an absolute king of Instagram and Facebooks DM. This tool works and integrates automation on your business profile across all social media platforms. This tool boosts audience growth on Instagram and Facebook on rockets for every startup business.
Therefore this is one of the most active and quick ways to a successful business via social media. One important aspect of this tool is the automated answering setup for quick responses to lead queries.
Any lead to the page is quickly assessed and segmented accordingly, reducing the chance of losing prospects or customers.
c. RoboBDR
This app is specifically built for SMS marketing and sales proposition. Automating the entire process of lead generation and engagement via text messaging. Most people do not use the internet while working and can engage better through SMS.
This software is purpose-built for integrating prompt responses to leads targeted by SMS marketing campaigns.
We have seen the usage of MobileMonkey quite practical and ticking all the boxes. But is well suited for large corporations having hundreds of employees. For smaller businesses, it will serve the purpose but will not be budget-friendly.
6. Hoot Suite
Social media is used by everyone these days. From 12 years old to 60 years plus, individuals all have this habit in common among them. Hoot Suite lets you manage your business posts in advance in chronological or alphabetical order.
This tool's advantage is that you can plan and make all the posts in one go. Then social media posting can be used accordingly or campaign-wise. Choose all the advertising posts with the most recent and the later ones. Easily set the time in the calendar, and it's all done.
If you just started the business, then there's no need to worry. Hoot Suite team guides you in each step through tutorials. So whether you're a new one or the oldest ones in the game, this software is ready to fill the missing gaps.
7. Google Analytics
For every business to have an eye on website traffic information and user, insights are important. Google Analytics is free of cost tool for all types of business, either doing digital marketing organically or by paid adverts.
Google is the world's biggest search engine and gives loads of information on targeted audience patterns. Hence promoting your business or new startup becomes quite easy using this tool.
Anticipating the target audience's likes and dislikes can help in making your business more appealing to your prospects. Bounce rates on the business website and average time on each page can be easily tracked. This data gives complete information on the dashboard on the changing patterns and trends in real-time.
This is such a diverse tool that it is a must for a starter business to big multi-million dollar corporations as this tool is free and provides complete data for the commercial success of your business project.
8. Vimeo
Vimeo is the premier video content hosting and sharing website. Compared with YouTube, which is 100% free, Vimeo charges its subscription fee.
Vimeo is a selective platform that was introduced a few years before YouTube. Vimeo has more than 260 million users worldwide, thus providing a big audience for your business.
Making good and high-definition video content that will promote your product or services on this platform is highly beneficial due to access to millions of users. You can choose the packages best suited to your needs accordingly. The top tier, seven terabytes, costs $75 US per month.
Although it's not expensive, startups with a minimum or lowest budget might go for YouTube. It is free, and almost 90% of users prefer and utilize YouTube daily.
9. Canva
If you just started a business and have zero savings or budget to promote your business. Canva is the best solution for you. You can create simple graphics with some attractive backgrounds for promoting your business brochures online on social media.
Canva is also free in basic mode, and almost all work can be completed this way. Most low-budget organizations choose this tool to design commercial logos and infographics effectively.
It's the simplest and easiest software to use in this entire list of x digital marketing tools you need when starting a business.
10. Zoom
Zoom is the best of the best online video conference app. It lets the top executives communicate with the rest of the team. No matter where the offices are, Zoom lets you connect with the project leads in real-time.
One of the biggest advantages is that this tool works on all kinds of mediums such as mobiles, androids or iPhones and laptops, desktop computers, etc.
Conclusion
We have provided in-depth details from our perfect essay writers. Ultimately, it only depends on the business and commercial objectives to determine the necessary software.
10 digital marketing tools you need when starting a business are crucial in providing your occupation the success you need. You can utilize them as much as possible until the desired results are achieved.
Author's Bio
Jasmine Pope is a tech enthusiast and digital marketing guru. She has written many blogs related to the induction of new technology and marketing trends of the digital age. Apart from being a writer, she is an entrepreneur and has a highly successful business in silicon valley.
About Post Author