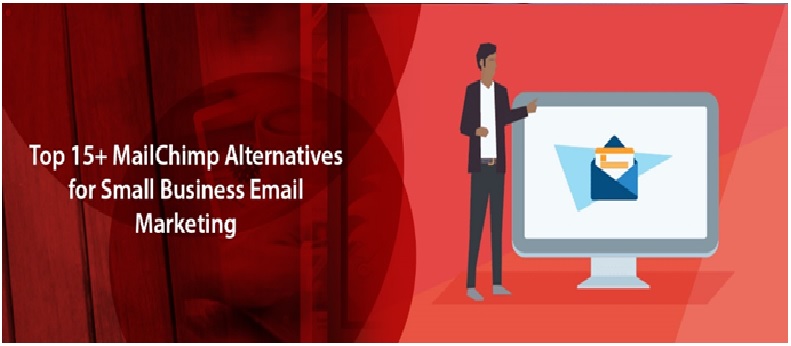 Top 15+ Mailchimp Alternatives for Small Business Email Marketing
Mailchimp Alternatives: Mailchimp is the most common email marketing tool widely used all over the world by marketers. It has gained immense popularity among small businesses due to its email automation, newsletter automation, segmentation, and list management features.
However, do you know there are several better products in the market that can help you in efficiently achieving your email marketing goals? More emerging players are changing the dynamics of the market. For example, with Mailchimp, you have to buy additional products to enjoy SMTP messaging and affiliate marketing features, but there are other products out there are more efficient and cost less.
So, if your business needs do not completely fit with Mailchimp offerings, it's time to evaluate other best alternatives. Having a good email marketing tool for your business is as important as having a reliable internet connection to smoothly perform all digital marketing activities.
We have shortlisted the top 15 best Mailchimp alternatives for you:
Best Mailchimp alternatives for 2020
Mailjet 
---
A cloud-based email marketing tool, Mailjet is perfect for all business sizes.It allows you to create newsletters, design email marketing campaigns, and measure performance results in a dashboard.
Mailjet also offers a very basic free plan which includes 200 emails every day and 6,000 emails every month. This plan is perfect for API transaction emails but not for promotional emails.
If your business campaigns are highly time sensitive, then you can easily establish SMTP server with Mailjet for high-speed email marketing. This way your prospective customers will never miss your promotional deals and discounts, given they have a reliable internet connection.
Moosend
If you are looking for an all-in-one marketing platform, then Moosend may just prove to be the right choice. It offers its users variety of perks like landing page builder, marketing automation workflows, and ecommerce integrations apart from the basic email and auto responder software.
If you have less than1,000 subscribers, then Moosend offers one of the best free plans for you! You can use all its essential features and send unlimited emails every month.
You can easily automate workflows, A/B test campaigns, and target campaigns with advanced segmentation. All this without any Moosend branding in your emails. The only features not included in this free plan are hosted landing pages, SMPT servers, and transaction emails
Moosend allows easy integration with a wide variety of tools including WooCommerce and WordPress. The only limitation of this platform is with sign up forms;you can only create HTML forms with Moosend but no opt-in pop ups.
ConvertKit
Famous for its excellent customer support service, ConvertKit is a good email marketing option for businesses that sell their products online.
You can easily automate email workflows, create opt-in forms, analyze data, build landing pages, perform A/B testing, and much more. It offers a user-friendly interface, detailed analytics reports that highlights key metrics, and everything that a small business owner needs to run successful email marketing campaigns.
Klaviyo
A multichannel platform, Klaviyo is perfect for ecommerce businesses. It offers text messages, social media advertising and email marketing services.
It is one of the best email marketing tools to connect with your customers using personalization techniques. The most important thing for a successful business is to understand its audience and Klaviyo offers the best analytical toolsto help you know exactly what your customer wants. It also includes a product recommendation constituent to help you better customize your email offerings.
Since Klaviyo offers integrations with Shopify, BigCommerce, Magneto, and WooCommerce, you can easily design advanced segments by fetching data about customers'page visits, cart abandonment, browsing history, etc.
SendGrid 
If you are struggling to scale your small business then SendGrid may be a good option for you. With Mailchimp, you could only dream of email customization using codes,but with SendGrid can turn your dreams into reality. It comes with a special newsletter tool specifically for developers to personalize emails for customers using coding techniques.
SendGrid also claims its high-volume email sending feature as the best among all other email marketing platforms. Hence, you can choose SendGrid to send deals, promotions, campaigns and newsletters in bulk quantities to your subscribers.
AWeber
AWeber places major emphasis on connection. It offers plans to automate customer journeys, send unlimited emails, and target customers using segmentation techniques.
You can easily create personalized emails using AWeber. Like many other email marketing tools, it also uses drag-and-drop feature, which makes it a user friendly platform.
You can enjoy integration with WooCommerce, WordPress, PayPal and Shopify with AWeber. With its WordPress plugin, you can even simplify the growth process of your subscribers.
MailerLite
Small business owners who want to get more followers may find MailerLite as a helpful tool for their business as it focuses on developing strong relations with the target audience.
The platform interface is similar to that of email service providers. Even if you are a beginner, you can easily create good email designs by using its drag-and-drop email editor tool. It also offers a variety of templates to ease your newsletter designing process.
Most people like Mailchimp because of its affordable price ranges. Luckily, MailerLite also offers best plans in reasonable rates.
Campaign Monitor
A cloud-based email marketing solution that specifically caters to those businesses that pay high attention to aesthetics, Campaign Monitor helps in designing stylish emails with attractive visuals and appealing themes. You can also use it for multiple email promotions as it provides wide variety of tools to design all your campaigns in a unique way using similar visual appeal.
It also helps in developing a connection between your brands, website, and promotional activities by using similar visual standards.  Many well-known brands like Adidas and UNICEF use Campaign monitor.
SendinBlue
SendinBlue offers the best pricing structure. You can send as many emails as you want in lowest possible prices. It is also a perfect solution for those businesses that are looking for one tool to perform all digital marketing activities.
SendinBlue free email marketing plan is one of the best among its competitors. It comes with a plethora of features including A/B testing, advanced segmentation, full access to templates library and automated campaigns. Not only this, you can have unlimited subscribers and SendinBlue just won't ask you to pay anything in return.
With SendinBlue email marketing, you also get access to its Customer Relationship Management (CRM) tool. So, you can easily access all you customer data and develop ways to improve interactions.
If you want to scale your business then SendinBlue is a better option than Mailchimp.  The only drawback is that after sending automated emails to 2,000 customers, you have to pay for it. Similarly, for automated campaigns also, once you cross the limit of 2000 people, you have to pay $25 every month.
GetResponse
Many small business owners struggle to get conversions, but with GetResponse, you can easily achieve your conversion goals. It offers a variety of digital marketing tools and features like scheduling, automation, optimization of sales funnel to help you reach your targeted conversion rate.
GetResponse gives you an opportunity to sell your e-products directly via newsletter. Its automation options are also highly advanced. For instance, it uses triggers technique in most of its targeted campaigns to get higher conversions.
Some of the Mailchimp features like split-testing, which are only available in its premium plans, are offered by GetResponse in its low-cost plans.
Sender
Another simple and easy-to-use email marketing tool is Sender. It is one of the best alternatives to Mailchimp due to its highly affordable rates.
Sender comes with a super-friendly user interface and amazing features for small business owners.As it is an economical email marketing tool, it has limited features. It offers integration with WooCommerce and includes purchase history segmentation and cart abandonment campaigns.
Constant Contact
Constant Contact is a product that targets non-profits and small businesses. It allows you to perform a variety of activities like developing promotional plans, running social media accounts, launching events, conducting surveys, etc.
If you like Mailchimp user interface then Constant Contact offers something similar to it. You can quickly design emails using its drag-and-drop feature. It also offers amazing customization tools and a variety of unique templates for emails. However, you need to have some basic HTML knowledge to modify these templates.
Jilt
Famous for its expertise in ecommerce stores, Jilt offers behavioral targeting, advanced segmentation, strong integrations, and data analytics features.  You can opt for this email service provider if you want to achieve certain milestones via email marketing.
Although Jilt is one of the best ecommerce platform, it offers deals at reasonable prices as compared to other industry players. It offers robust integrations with digital downloads, WooCommerce and Shopify. However, it does not offer customize content creation for Google Ads and social media campaigns.
ActiveCampaign
If you are looking for a suitable platform to automate sales email funnel, then ActiveCampaign is one of the best in this category. It is one of the very few providers that offers regular in-person training and development activities.
With a well-established niche in drip campaign segmentation, ActiveCampaign helps businesses in designing complex sales funnels and sending out newsletters. The best thing is that these operations keep running on their own in background while your business runs in the foreground.
Omnisend
A multichannel platform, Omnisend is suitable for businesses with high focus on email features. You can use it to send push notifications and messages through different mediums including SMS, WhatsApp, Facebook messenger, etc. No matter how many total subscribers you have, with Omnisend free plan you can send up to 15,000 emails every month.
The only drawback is that Omnisend free plans have no integrations with behavioral targeting and ecommerce so you cannot create any targeted campaign to meet customer's needs.
Bottom Line
We have listed the top Mailchimp alternatives for you; each comes with a different type of email marketing service. We would recommend you to understand your business requirements clearly before committing with any email service provider. This way you can choose the email marketing tool that best suits your needs with ease.
About Post Author