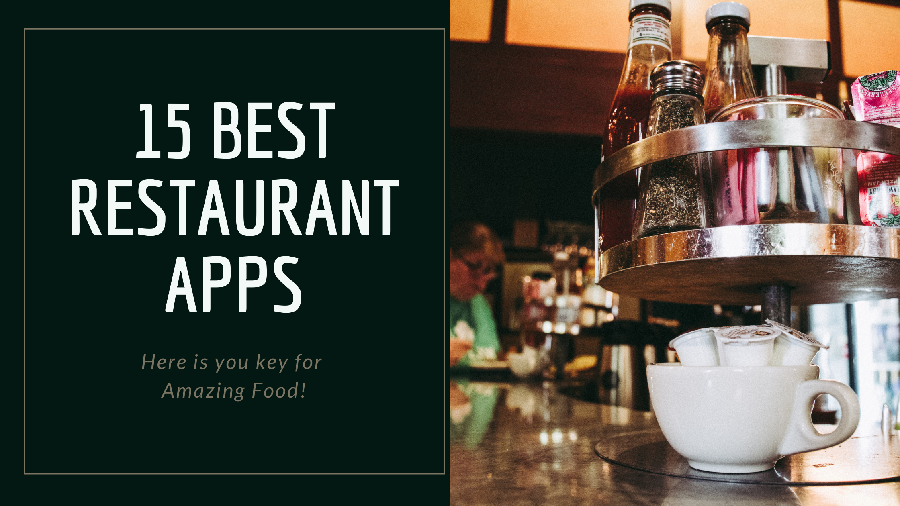 15 Best Restaurant Apps That You Need to Download Today in 2023
Best Restaurant apps are a great way for restaurants to stay connected with their customers with their own restaurant app and showcase new dishes, encourage reservations, and promote amazing offers.
Ever wondered why many restaurants are looking for bringing their restaurant apps to their customers. We figured it out, below are some great benefits of restaurant apps.
Allow your customers to order ahead or directly from their device through their restaurant app.
Contactless, without menu card – food ordering apps work for table service, delivery, and takeout.
Offer delivery and takeout options to add a lucrative revenue stream for your restaurant.
Our simple drag-and-drop suite makes it easy to build your menu and add, remove, or change items whenever you need it.
How to Use Restaurant Apps 
---
Using a Restaurant App is very simple. Many times a customer will get a detailed video on how to use the App. Below are the generic steps for any Restaurant App to use. These apps are here to make a great customer experience.
Step 1: Simple Account Creation:
You need to create an account to start using any Restaurant App. The account creation can be done by using a mobile number.
Step 2: Add your Favourite Menu:
Add your favorite food items to the cart by browsing various sections of the App.
The best part is, some Restaurant Apps have a feature called 'mark favorite'. With this, you can mark your favorite dish and order it without searching the whole Menu. Amazing isn't it !!!
Add your selection to Cart.
Step 3: Confirm the Order:
Once your favorite dishes are in Cart. Go ahead and confirm it.
You can pay through your card or COD. or UPI or Paypal or Wallets. There are numerous way to pay. Confirm your payment option and proceed. Don't forget to add the Tip:)
Step 4: Track you Order and Get it.
Many Restaurant Apps have this feature to track your Order. Like once your Order is confirmed by the Restaurant. They will share the Live update to track your order. You know now many catering services are venturing into Online Food business with Apps.
Best Restaurant Apps for Every one to Download 
---
1. OpenTable – Book Restaurants
There's no other simple way to find and reserve a table at a restaurant for free than with Open Table. Plus as an additional bonus, you get rewarded with dining credits every time you dine out. This is an amazing way to book your table and also gain Reward.
Additionally, it works in all major tourist destinations with hundreds of the most popular restaurants in the Las Vegas area.
2. Tripadvisor Hotels Flights Restaurants
Tripadvisor is a complete package for tourists. It might look like another hotel and attractions review app, but not. Trip Advisor offers the best reviews and recommendations for restaurants. It is a great way to find amazing reviews about the Restaurants.
They come with a description of Fancy a foodie tour? Eat your way around the world and indulge in local delicacies.
Find great food wherever you are, and book a table at nearby restaurants. Browse and book Travellers' Choice award-winning hotels, experiences, restaurants, and more.
Amazing Right – Check the reviews in Tripadvisor before you try your next Restaurant. !!!
3. Uber Eats: Food Delivery
Uber Eats is an amazing Food Delivery. A food delivery app with a wide network With Uber Eats, you can get the food from your favorite local restaurants all while using the single and same Uber account that you use for your daily commute.
4. Swiggy
Swiggy is the other best-in-class food ordering app today. With great interactive UI/UX and easy call to actions, Swiggy is gaining popularity these days among all other age groups. Swiggy offers fast delivery, live order tracking, and the best part is that there is no minimum order that has made swiggy a favorite among the millennials. Also, it is welcomed and appreciated that Swiggy is available in almost all cities in India. Swiggy offers and discounts, and the number of restaurants to choose from are some other factors making Swiggy more popular. Different payment methods, including COD and online payment using debit and credit cards, are integrated for user's convenience. The thought the makers have put into developing the app is greatly appreciated as it greatly serves the purpose.
5. Foodpanda
Foodpanda is one of the great pioneers of the online food delivery industry. The app has all its favorite food destinations and cuisines. Foodpanda is other great user-friendly and easy to order app. The steps to complete to finish your order are convenient and also super fast. Food Panda is serving in only limited countries Singapore, Malaysia, Thailand, Philippines, Cambodia, Taiwan, Hong Kong, Bangladesh, Japan, Romania, and others
6. Faasos
Faasos is another exciting Food app that exists to answer the most asked question of this digital era. What's for food? With a very wide range of restaurants, Faasos helps its users to eat all well and eat exciting. Faasos operates in Dubai and also in 34 of the largest cities in India and takes customer orders via its mobile app and website. Faasos has a premium version called bolt in which if the order is not delivered within 30 minutes, the order is free. In this app, we have amazing offers and discounts and multiple payment options.
7. Deliveroo
Deliveroo is a London based food ordering App. The best part of this App is the food you ordered will reach you quickly, even in the busy hours and holidays. Efficient delivery is definitely the best feature of Deliveroo. The App covers all areas infamous and the best restaurants available and your favorite cuisine will reach you within minutes.
8. Grubhub
Grubhub has the nation's total number of restaurants. Every store is included in the app for you to select the best. The customer service is great and is available 24*7 for users' convenience. The newest feature of Grubhub is Perks – helps you find all the deals in the restaurants. Some of the other rewards and deals by Grubhub even more attractive. The app is built using the best UX design trends to attract customers.
9. Seamless
Seamless does food delivery and corporate catering to more than 4,000 corporate clients across 40+ cities in the US.
Seamless is an online and mobile food ordering platform for regional restaurants active in the U.S., London, and is emerging into other markets also. Food ordering apps are competing like never before to get better exposure among the hungry population of India. Seamless is always recognized for its huge list of restaurants and amazingly quick delivery. Item wise or restaurant wise quick searches live tracking of orders, and multiple payment options make Seamlessly recognizable.
10. Domino's
Every one know Pizza, piping hot pizza anytime at your doorstep. Domino's app is amazing hub pf variety of Pizza's and has pizza for every occasion. Domino's app has a great ways to customize the order. The pizza delicacies are unbelievable and finger-lickin. That delicious cheesy crust will melt your heart and you can have it in your home. The app promises a 30 minute delivery and they deliver it too. The Domino's Pizza has taked it to the next level by delivering it ion Train. Just order your pizza from the nearest domino's outlet, and you will get it at the next station.
11. Eat Fit
Good food is something we all crave for. Absolutely no one denies it. One of the serious and ever lasting issues for today's generation is dealing with health. As there is drastic decrease in physical activities considerably, ailments started accompanying most. The Eat Fit app helps you eat healthily, and this is a boon. The app is a complete package it provides nutrition education and healthy foods. Other great feature of the app is, customized meal can be searched for ordering the meal. Eat fit is a great app that nourishes the healthy eating habits.
12. Starbucks
Starnucks App is loaded with amazing features. Anytime you can pay with a tap on your phone and get rewarded with free drinks and surprises This is always a great perk. With the Starbucks mobile app one can order ahead and pick your drinks without any waiting in line, at the same time gaining stars. If you are regular to Starbucks, it's a necessity, if you want to get your free drinks and refills.
13. Pizza Hut
Pizza Hut, when creating their mobile app for tasty and yummy pizzas, these guys seriously put in lots of thoughts. The app has all required features like location mapping, improved speed, easy carting, and live order tracking features. The attractive user interface will make it much easier for the users to get the pizza the way.
14. Zomato
This is one of the new normal way to find the best cafes, restaurants, and bars. Plus you'll even read blogger reviews of restaurants as well!
15. Resy
Resy is absolute unique. This app allows you to reserve your best tables and times at more popular eateries in almost all major cities by essentially buying the table.
Try one of these restaurant apps today and share your experience with on your favorite restaurant and dining apps with us.
About Post Author