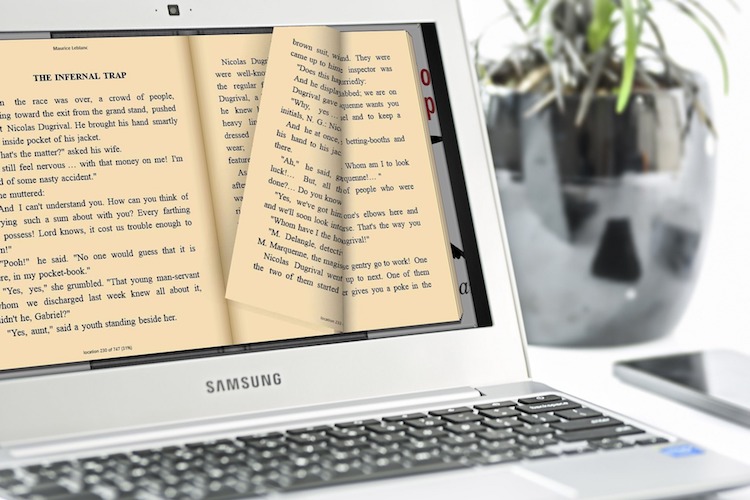 Top 10 Best EPub Reader for Windows
There are many EPub Readers but the designs of each EPub App are different. All the EPub Reader Apps for Windows listed in this article are useful, pretty and ready to use.
Reading ebooks is no more an issue when you have kindle edition which will open in particular tablet. But that does not mean that you will just waste dollars to buy an expensive tablet to enjoy reading. Now you can get the same reading experience in Windows and you will enjoy the same reading experience. In windows convertible of 2-in 1 style you can read books through EPub app.
There are many EPub apps but the designs of each EPub app are different. Before you get the advantage of the EPub, you must know how they work and it will give you the best details of the EPub apps. Hiring the app making web development services  saves your money and you will get good return.
What do you mean by EPub Reader?
It is an app that will open and process through the eBook. It is a digital version of all types of physical books. It has a format of PDF but it is XML based and that is why it is compatible with different programs on the different platform. You can read digital books on the computer and even the smartphone. The app works amazing and it is thereby supports in the best possible ways. So, you can truly make a new difference to your reading experience and make sure you read all the details.
How to Operate EPub Files on Windows 10?
It is more like PDF file and very easy to operate. Browser of older edge supports EPub files but in new one it does not support hence; you need to install the app for you to open the EPub files. Therefore, it is very useful and makes the thing work and gives you reliable support. You can definitely get to read the EPub files and get the most effective reading experience.
List of Some Amazing EPub Readers for Windows
---
Caliber
It is the oldest EPub reader and great for window machine. The features of the app are incredible. You can download EPub, transfer books from one to another, manage metadata, and download book covers. You can even convert book format from one to another. With the help of calibre you can read comics, magazines, and novels. It is one of the best which supports Windows Vista, Windows 11, Windows 7, Windows 8, 8.1 and 10. You can fix book metadata, all types of features, use CSS to custom theme readings. But it takes time to load and the UI is bit old.
PDF Reader Sumatra
For long lasting performances and the features that are modern, it is the best app for you. It is lightweight, open fast and just perfect for you to work and read. It is great for text scaling, background change of color. It is the straight EPub reader and has nothing to do with frills and extras. It supports Windows XP, 10, 11, 7, Vista, 8 and 8.1. It has a clean interface, gives great experience of reading; it is light, fast loading app and supports CBR and CBZ format of comic books. It does not give book annotations and does not have editing metadata as an advanced feature.
Freda
For Windows lover, Freda is an amazing reader. And, readers find it great to read different types of books and it has great theming capabilities and one can customize the look and make the feel of the read better. It supports EPub but it also supports FB2, TXT, and Mobi. The app gives you access of public domain of about 50,000 and they are all free Gutenberg, Feed books and even many other catalogs. If you prefer look while reading, then you must try Freda. It supports Windows 8.1, 11, 10. It has modern UI and gives excellent reading experience. Also, you get a good support of text-to-speech support of reading. It even supports bookmarks and annotations and the reading mode is customizable. It does not support the Windows OS of old generation. So if you want to read on this app then get the new version of Windows OS.
Icecream
It is one of the favorite EPub readers because it has many features and even the look and feel is great. It gives support to full screen mode, it has great search capability, the mechanics of easy page turning is also great, it tracks reading progress and supports multiple language. It even supports the ebook formats like FB2 and Mobi. It supports Windows 8, Vista, 11, 10. IT even supports annotations, bookmarks. You can go through of Google search of the copied text. All the features comes with a price and it is not free app.
Cover
You can read comic books with the help of this app on your Windows. Comics are more of images and that is why it is the best app for reading books on this app. If you want to read books that has a lot of images, then it is the best reading app. It supports Windows 8.1, 11 and 10. It has great management of library with great reading experience and the mode of reading is customizable. Note that Cover is a well-designed comic's reader for Windows 10 devices. Cover is highly customizable which exudes practicality among the modern-day users. It has been developed with the help of Microsoft's Universal Windows Platform. Cover is a fast and lightweight app which makes it convenient to access various types of comical stories.
You can fit the screen to either the width or height of the screen. And unlike traditional PC comic readers, you can import your entire collection of comic books into Cover. Cover supports a wide variety of file formats. From CBZ/ZIP to CBR/RAR, you can access all file formats in Cover. Cover boasts of crystal clear library management. You can store your comic books wherever you want. With Cover, you would be able to readon the go. Cover also lets you open the standalone files and customize your reading experience. What sets apart Cover is its ability to facilitate smooth navigation. You can select which type of comic books you want to portray in the kid's corner with Cover.
Kobo
You can buy books and read from this app. It is more like Kindle app. Kindle does not support EPub format but Kobo supports EPub and EPub 3. The app has features like bookmarks, theming, search and progress tracking. You will get almost 5 million books for free to read and they are all affordable. From children to comics, you name it and you will get it.
If you want to buy a new book, and want to read it, then this app does all the magic. It is good for Windows 8.1, 11 and 10. The reading mode of the app is amazing, it has modern UI, it is easy to bookmark access and but ebooks from in-store built.
The Kobo boasts of an improved user interface along with a premium yet affordable design. If you are looking for an EPub reader which you can access via a single hand, then Kobo augurs well for you. Note that the Kobo is a pretty speedy device and doesn't lag much. Thanks to its rugged plastic body, the Kobo is durable. If you want a durable EPub reader, then opting for Kobo is the best option. Cover art along with text are rendered at higher DPI. It also features a rapid page turn design which allows you to move quickly in the eBook.
Nook
Barnes and Noble is one of the largest booksellers and hence they launch their personal EPub reader in the name Nook. Also, you can buy books from the app and makes it easy for you grab the opportunity. You will get 14 days trial period and you sign up the services. After it ends you can buy books and even subscribe to the magazines which creates interest in you to read. It can customize the reading experience with different line spacing, different fonts and even themes. All through the devices you can easily sync and get thousands of classic features. The reading mode is amazing and good for the eyes. It has modern UI and you can bookmark easily and buy ebooks easily. It only supports highlight color and good for Windows 8.1, 11 10.
Adobe Digital Editions
If you want to grab creative content, then it is all thing of Adobe and people will consume the best contents ever. It supports standard EPub 3 and hence reader will get amazing reading experience. you can even read from right to left with dynamic image approach. One can resize the image with interactive quizzes and math formulas. It has many unique features and great search capabilities and you can borrow or even rent EPub version from the public and local libraries. It is the best right app for the better reading experience. It easily sync all the books, it has many organization features, it gives great reading experience, it supports highlights, notes and bookmarks. The mode of reading is not customizable for users, it is slow to reload and have great library and you need an Adobe account. It supports Windows 7, 8, 10, 81.1 and 11.
Bibliovore
It is the best app reader for readers. You can easily download for the Windows and it is free to use and download. It has amazing organizational features and you can allow to manage with large books library. You can adjust font parameters; manage theme reading, metadata book edit, reading mode for night and day.
To sync to all the devices you can use OneDrive. It offers amazing reading experience, organization feature, editing book metadata, series of group books. It supports Windows 8.1 and 10. To be precise, Bibliovore is a good looking eBook reader and manager app for Windows 8.1 and higher. With Bibliovore, you would be able to import individual EPub and PDF files. Moreover, you will be able to scan and open the contents of a folder tree.
While scanning, Bibliovore may lag because of some internal bugs. The reading mode contains fewer menu options which are simply great. By right-clicking, a slider will be displayed which you can drag to choose a specific page. With the Bibliovore app, you will have quick access to the book's table of contents. Bibliovore also has a simple bookmarking system and an option to view the pages one at a time.
Bookviser
The EPub reader gives the similar experience as physical books and gives you amazing reading experience. The UI is amazing and hence give you real book reading experience. If you do not like the modern UI then you can go to setting and change to EPub traditional reading experience. It has a clean, simple interface. You can adjust font, spacing and even adjust margin.
It supports turning multiple pages to animation. It even supports book download and integrated public catalog. With the Bookviser Reader, you will have access to tons of e-books, all DRM-free. However, in Bookviser, you have to track down the books yourself. If you are looking for a great way to load up your Windows device, then Bookviser is your best option. Note that Bookviser supports text, fb2 and other EPub files. Note that the EPub books are DRM-free which augurs well for your reading experience. It is worth noting here that Bookviser doesn't possess a storefront of its own. However, the app will direct you towards some fantastic sources which are home to the world of fascinating literature.
Conclusion
You must talk with an expert and  the person will guide you to let you know which app works best for you. All the EPub reader apps listed in this article are useful, pretty and ready to use. It gives the reader the best experience that will definitely create a buzz in the reading circle and it satisfy the urge of the readers to read more and more books.
About Post Author