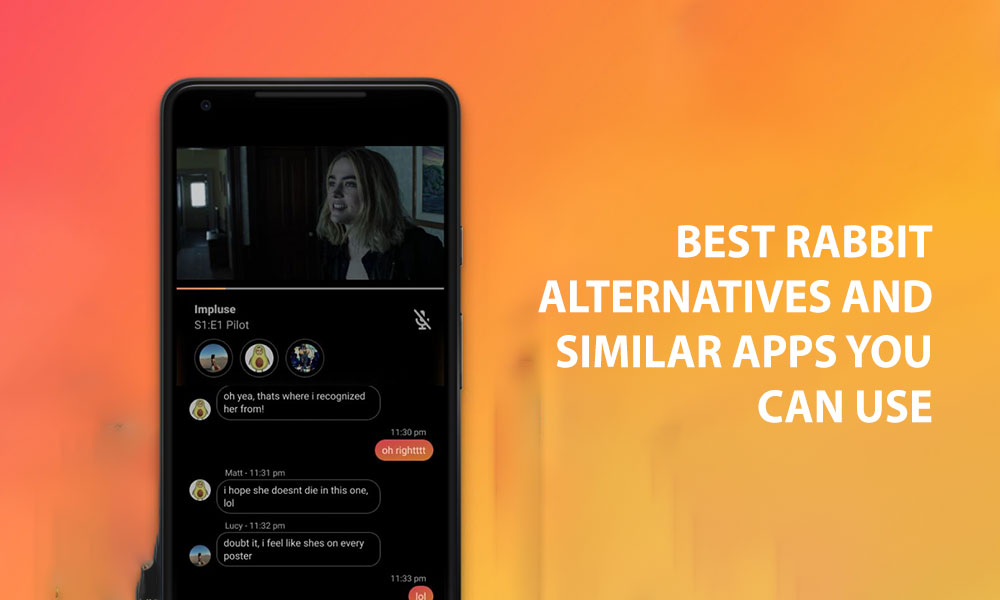 Best Rabbit Alternatives and Similar Apps You Can Use in 2021
Bored at home and want to watch videos with your friends who are far away? Here are Best Rabbit Alternatives and Similar Apps You Can Use to watch videos online.
Previously Rabbit was doing this job for you efficiently but since the time it's gone in 2019, its users are left wondering which platform to switch to, for experiencing the same seamless co- watching of videos. Watching things together can bring more fun be it watching movies, web series, seasons, documentaries, travel videos, and a lot more options.
Rabb.it was giving this service to watch anything with anyone is both an app and a website where countless users can watch anything with their friends or random people from the internet. Rabb.it was a popular video streaming website that was launched in 2014 in California, US, Rabbit that allowed synchronized surfing on users simultaneously. The streaming quality was really nice, as video quality matters a lot for example 1080p HD video camera can record a high-quality video, and watching it at 720p or 480p can ruin the whole experience.
This platform had 4 million active users at the time it went for closure. The main reason reported for its shut down was the investment needed for its operation. The service providers first opted for various ways to collect that capital by charging fees for their services or by running advertisements but nothing worked for them. While competitors also stepped in the market Rabb.it was shut down on July 31, 2019.
It was a fun site where apart from that cinematic experience you could have made friends and also you were given the option of chatting, making voice calls, sharing browser tab, and watching downloaded content.
One such epic platform was Rabbit that allowed users to stream and watch different movies or shows with their friends and family in real-time. It was the pioneer platform that allowed people to co-watch their favorite shows with their favorite people while sitting miles apart.
If you were amongst the users of Rabbit, you must have faced some issues after its abrupt shutdown. However, here we have compiled a list of alternatives to Rabbit.
Rabbit alternatives and similar apps that you can choose to revive the same rabbit experience
---
Metastream
Metastream offers a great quality live synchronization playback. The platform uses its proprietary technology to offer enhanced live streaming to multiple people. The platform also offers an on-screen chat feature, video queuing, and swift user management. It is built to support major streaming services like Netflix, YouTube, and Prime Video, among others. Although Metastream will not provide you features like streaming downloaded media, webcam, and audio support like Rabbit, you can still choose it as a good alternative for streaming watch parties.
Pros
Great live synchronization playback
Basic user interface
Supports major streaming services
Social interaction
It is free to use
Cons
No webcam or audio message support
Watch2gether
The second one on our list is Watch2gether that you can use to watch videos, listen to music, or do shopping on Amazon together. You can seamlessly stream your movies or shows and the live sync playback is very good in this one. However, this platform does not deploy an online virtual machine like Rabbit. That means you will have to stream video content that has a good upload speed. Watch2gether  also offers other useful features like having a chat feature with GIF support.
Pros
Stream shows, listen to music, and do shopping together
Supports YouTube, SoundCloud, and Amazon
Great real-time playback
Chat using GIF
Free, Paid subscription starts at $3.99/month
Cons
Does not support webcam or audio message
Does not support Netflix
Pop up ads in the free version
Airtime
This allows you to watch YouTube videos together, listen to music, group chat using GIFs and animated stickers, send sound reactions, etc. It can support up to 10 users in a single room. Airtime also supports audio commentary and media playback simultaneously just like Rabbit. You can even share photos, short video clips, and texts while live-streaming the shows. Airtime is one of the best apps for streaming watch parties on mobile phones and is very similar to Rabbit in terms of useful features.
Pros
Watch YouTube videos together, listen to music
Share stickers, audio message, and GIFs
Supports audio commentary
Free on both Android & iOS
Cons
AnimeParty
This one is dedicated only for streaming and watching Anime content with multiple people. It offers a flawless platform where you can create a private room and call your friends in. You can even browse Anime content from its library and can start watching without any delay. AnimeParty also offers a group chat feature so that you do not miss talking about the show with your real-time companions. The sync playback is also quite good in AnimeParty.
Pros
Best for watching Anime content together
Offers Anime content library
good sync playback
Group chat feature
Free to use
Cons
Limited to Anime content
No webcam or audio support
ShareTube
Another alternative to rabbit is Sharetube that enables you to watch synchronized videos with your favorite people. This platform allows you to watch YouTube videos with your buddies in Sharetube.
As YouTube is the prime source of video content created worldwide, even the content uploaded per minute on YouTube is immense. A lot of content created locally is being published globally on YouTube to get large numbers of viewers and to engage the audience. You can find content regarding each aspect of life covering all the categories be it related to fitness hacks, educational content, to showcase the talent of the people to the world, documentaries, and much more. So it can be really amusing to watch the content of your choice with your favorite people. For this purpose, share tube can be the best option as it is specially built for watching YouTube content together with anyone you wish to watch with.
Sharetube also provides you the option to create a room with your friends and watch any YouTube sync. Video together along with the interactive option of group chat.
Pros
Best for watching YouTube videos together
Simple user interface
good sync playback
Group chat feature
Free to use
Cons
Limited to YouTube only
No webcam or audio support
Netflix Party or Teleparty
 Previously known as Netflix party and now in town as Teleparty is the best way to watch videos with friends especially TV shows. Netflix Party definitely is ruling the other options in the market because of a lot of reasons. We all know that Netflix is hitting the popularity charts these days, since it has a massive library, you can choose from a wide range of content. It has the most diverse variety of shows, films, and web series that you might find on any other platform. You can watch it on any operating system be it android, iOS or web browsers. You have a group chat option while you watch videos with your buddy where you can send text, images, emoji's, and stickers.
You can simply download it from the chrome store, launch the app and select the movie or tv show of your choice. By choosing the start party you will be shown a URL that you can share with your friends to watch things together.
MyCircle.tv
MyCircle.tv is also a wonderful platform that can be used in place of rabb.it and this will surely not disappoint you because it covers everything that is supposed to be covered by such platforms. This platform allows you to watch videos from various 3rd part platforms seamlessly with your partner, be it from YouTube, Dailymotion, some shared URL or Vimeo, etc.
You are assigned a virtual room and videos played in this room are watched simultaneously by all members. Meanwhile, you can interact with people in the room with a group chat option available there.
Rave
It was launched on December 1st, 2015 by Rave Inc. and it is an awesome option to watch videos and listen to music on your smartphone with your friends. It lets you watch videos from Netflix, Youtube, and other streaming sites in a synchronized fashion. The synchronization quality is really good to give you a smooth experience. Other than Netflix you can also watch videos on Daily motion, Google Drive, etc.
Invited
Invited is another good alternative to Rabbit where you can watch high-quality videos of Netflix, Crunchyroll, crave, etc. with your friends. This is a browser-based platform where all members watching together have the authority to browse and surf the videos. Few of its features available on payment of their subscription fee.
Together TV
This can be an amazing option for your leisure time, you can join this platform with your friends to have fun by co-watching videos on Netflix, Hulu, etc. This gives you an extra fun feature of playing random videos for you based on your interest that can be really fun to watch with friends to explore random content as surprises while doing audio group chat.
And Chill
It is a great option to watch content with your virtual friends and share videos and audios in just a single click in public and private rooms.
It can be fun to find people with people who shares the same interest like do.
Parsec
This is a game streaming platform mainly but here you can watch videos with your friends too. You can invite friends to your video stream and they can watch the content in real-time and without any latency issues. It does bring superior synced playback and that is the primary feature of Rabbit.
Conclusion
Now that you are familiar with some of the very useful Rabbit alternatives curate by the top Android app development companies across the world, make sure that your watch party plans do not go in vain. Choose the platform that suits you and your friends the best and enjoy your weekend!
About Post Author