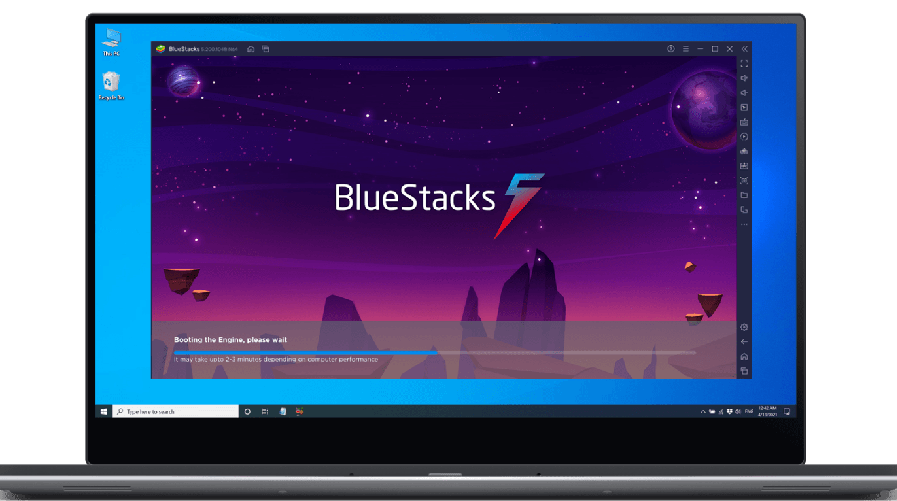 What is BlueStacks? Main BlueStacks Features and Functions
BlueStacks is an American technology company best known for BlueStacks App Player and other cloud-based cross-platform products. BlueStacks App Player is designed to enable Android applications on Microsoft Windows PCs and Apple's macOS. It was created in 2009 by Jay Vaishnav, Suman. founded Saraf and Rosen Sharma, former CTO of McAfee and a member of the board of directors of Cloud.com. Investors are Andreessen Horowitz, Redpoint, Samsung, Intel, Qualcomm, Citrix, Radar Partners, Ignition Partners, AMD, and others. The company was presented on May 26, 2011 at the Citrix Synergy Conference in San Francisco. Citrix CEO Mark Templeton demonstrated a first version of BlueStacks on stage and announced that the companies have entered into a partnership. The public alpha version of the BlueStacks App Player was released on October 11, 2011. App Player came out of beta on June 7, 2014. On July 23, 2014, Samsung announced that it had invested in BlueStacks. That brought the total external investment in BlueStacks to $ 26 million.
BlueStacks App Player 
---
The App Player, software that virtualizes an Android operating system, can be downloaded in versions for Windows 10 and macOS. The basic functions of the software are free to download and use. A paid monthly subscription is required for advanced optional features. The company claims that the App Player will be able to run 1.5 million Android apps as of November 2019. In February 2021, BlueStacks had been downloaded more than 1 billion times and had users of more than 500 million.  Mouse, keyboard and external touchpad controls.
Minimum requirements
---
Current minimum requirements for App Player for Windows include: Windows 7 or higher, 2 GB or more system memory, 5 GB hard drive space, administrator rights, and an Intel or AMD processor. BlueStacks collides with BitDefender antivirus software. The latest version of the graphics card driver is also suggested. The minimum requirements for macOS are: macOS Sierra or higher, 4 GB RAM, 4 GB hard disk space and a model newer than 2014.
How did it all start?
---
The foundation for the idea was laid on a family outing when the daughter of one of their founding members wished she could play her mobile phone games on her father's laptop.
The first year-  It was the year 2011. The paths of the founding members crossed. Streets in Silicon Valley and worked together to create downloadable software that would provide users with a "virtual Android experience" on Windows PCs and Macs. BlueStacks was started as a cross-play platform with a team of three. BlueStacks is one of the most recognized technology brands in the industry and has a team of more than 300 employees around the world. The app player has become the best Android gaming platform for computers (PC), and trusted by more than 500 million players from more than 200 international gamers. Some of the world's leading game developers use our platform to promote their games.
What is BlueStacks?
---
Emulators will turn your PC into a Mac, play games from all eras, and more – here's what you need to know about the potential benefits and risks of using an emulator. Like any emulator, BlueStacks creates a virtual version of an Android device that is running in a window on your computer. It doesn't look exactly like an Android device, but it looks good like a phone screen so even a new user shouldn't have any problems with it. BlueStacks is free to download, install and use. While you can run almost any Android app with BlueStacks (it supports about 97% of the apps on the Google Play Store), the app has found its largest audience among Android users wanting to play mobile games on their desktop computers. The app is optimized for gamers, but offers direct access to the Google Play Store and each app can be downloaded via your Google account just like on an Android device.
Main BlueStacks Features and Functions
---
The BlueStacks home screen doesn't reflect a specific version of Android or the phone screen, but it should be easy for any Android user to find their way around. The home screen also contains an icon for the Google Play Store. as a collection of system applications (including settings). A toolbar on the side of the window gives you access to the various modes and functions of the programs, as well as adjusting the volume, taking screenshots, rotating the screen and much more. There is also a separate settings icon for adjusting the BlueStacks settings. This is different from customizing the settings for the Android virtual device. You can navigate using the Back, Home and Recent Apps icons in the lower right corner of the toolbar.
Easy app installation: You can install Android apps without delay from the Google Play Store inside BlueStacks withinside the same manner you'll install any app to your phone. If you've got an app's .APK file (the executable app file) you could install it from the BlueStacks toolbar.
Integration with PC gadgets: BlueStacks integrates seamlessly together along with your computer's gadgets and peripherals, inclusive of the mouse, keyboard, webcam, and greater. These gadgets will paint as though they had been constructed into your Android device, and Android apps may be capable of taking advantage of them automatically.
Game controls: Most Android video games have hard and fast default controls that make fine use of the computer's mouse and keyboard, even though you could alter and customise those controls inside BlueStacks.
Multi-example support: BlueStacks permits you to open the equal recreation in a couple of windows, gambling it with or greater money owed at once. You can use this to play a couple of video games at the same time, to play the equal recreation from numerous money owed, or maybe to play multiplayer video games with yourself.
Macros: BlueStacks consists of a sturdy macro editor to automate obligations with keyboard shortcuts.
New released versions
---
In December 2015, BlueStacks, Inc  released the new version BlueStacks 2.0, which allows users to run multiple Android applications at the same time. BlueStacks 2.0 was also available for Mac OS X 10.9 Mavericks or higher until 2018.
Then On April 7, 2016, the company launched BlueStacks TV, which integrates Twitch.tv directly into the BlueStacks App Player. This addition allows users to stream their apps on Twitch without the need for any additional hardware or software. BlueStacks launched the Facebook Live integration in September 2016, which allows users to broadcast their game to their Facebook profiles, the pages they control, or the Facebook groups they belong to.
In July 2017 BlueStacks released BlueStacks 3 based on a new engine and interface design. BlueStacks 3 has added an App Center that adjusts game suggestions, an account system, a chat, a new key mapping interface and multiple instances. Multi-instance allows users to launch multiple BlueStacks windows with the same or a different Google Play account.
On January, 2019, they released BlueStacks + N Beta on Android 7 (Android Nougat) and claimed to be the first and only Android gaming platform to have Android 7 at that time, as most of the Android emulators were running Android 4.4 (KitKat), including older versions of BlueStacks. This beta version is powered by an updated "HyperG" graphics engine that enables BlueStacks to take advantage of the full range of APIs from Android 7.
On September 18, 2018, BlueStacks announced the release of its latest flagship version, BlueStacks 4 at. According to the Antutu benchmark, BlueStacks 4 tests 68 times faster than all popular mobile phones. BlueStacks 4 also includes dynamic resource management that only initializes the required Android libraries, thus freeing up resources. A new database and search provide a clean user interface. Automatic key bindings in games that are compatible with key customization are also available for additional customization. Also, BlueStacks 4 supports both 32-bit and 64-bit versions of Android 7.2 Nougat. Development for macOS has restarted and version 4 is currently available on the website from November 2019 and was first released for Mac in January 2019.
On January 17th, 2019 BlueStacks released a 64-bit version of BlueStacks 4 bis released its early access program This version runs on a 64-bit version of Android 7.2, which enables improved performance and more efficient use of memory. The prerequisites for running this build include running a 64-bit version of Windows 8 or higher with virtualization enabled and HyperV disabled. This 64-bit version allows you to install and use the Android apps ARM64v8a.
On May 19, 2021 BlueStacks released BlueStacks 5.
BlueStacks Compatibility and System Requirements
---
BlueStacks has relatively modest system requirements and should run fine on most modern computers. Some of the main system requirements for installing BlueStacks:
PC: You must have Windows 7 or higher, although Windows 10 is recommended 2 GB of RAM is required but 8 GB or more is recommended. You need at least 5 GB hard disk space (SSD recommended) and broadband internet access. Your PC needs a modern multi-core CPU to run BlueStacks properly.
Mac: Requires mac OS 10.12 (Sierra) or higher, but macOS 10.13 (High Sierra) is recommended.4 GB of RAM is required, 8 GB or more is recommended. You will also need at least 8 GB of space on your hard drive and an SSD is recommended. Your Mac needs a modern multi-core CPU to run BlueStacks successfully, and it must have an Intel HD Graphics 5200 or better.
Performance of the BlueStacks
---
How will BlueStacks affect your computer's performance? If you are using a medium specification computer, the software may crash. It could also consume a significant amount of your PC's system resources. This is because it has high CPU and RAM usage. Of course, it will slow down your computer's performance. However, this is normal as Android and desktop / laptop operating systems have different builds.
Popularity of the BlueStacks
---
As mentioned above, BlueStacks is one of the most popular Android emulators right now. It's preferred by millions of users for its performance and customization flexibility, but don't take our word for it, you may never know if there is anything better in the future.
Updated software of BlueStacks is safe software
---
When BlueStacks was first introduced to the public, there were several security issues. It was a controversial app at the time. But the developers managed to update it and release the latest version with updates. In short, the latest version brings security and convenience to every user.
Is BlueStacks safe and can rely on this application?
---
BlueStacks is a legitimate application that was developed and produced by a large company. As long as you install the program from the BlueStacks website, it is safe to install and use. Installing from a third-party site can be more complicated. Even so, some anti-malware utilities may even block the program from installing it from the Bluestack website. As long as you install the official Bluestack program, you can safely proceed. It's also perfectly legal, although some companies argue otherwise, the emulators are protected by US law and can run like any other application.
Is It Legal To Use Android Bluestacks Emulator?
---
The only reason people are speculating about the software's legality is that most of the emulators break the rules and regulations, however, Bluestacks is an Android emulator and Android is an open source operating system, which means you can Second to change, Bluestacks is just an emulator that is not malicious in any way and allows its users to log into their Google Play accounts. In other words, it's safe to say that Bluestacks is legal to use.
Security
---
Certainly, BlueStacks is 100% safe for your PC or laptop. There is no concrete evidence that BlueStacks activates spyware and malware. If you just want a safe and legitimate emulator, BlueStacks is for you. Why waste all the fun you can have being unreasonable? Security Issues If you don't have an Android device and want to use an Android application, the best way to do this is to download the software.
About Post Author