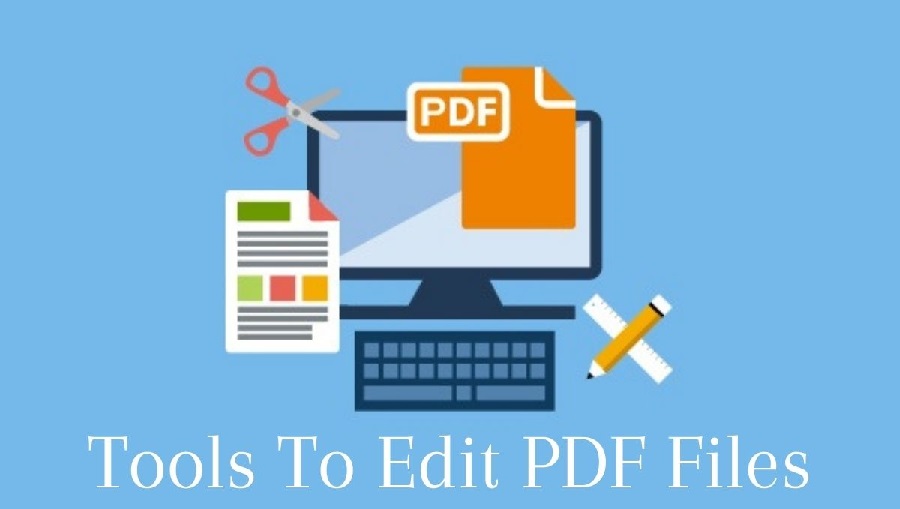 How to Edit a PDF File? Best Tools to edit PDF files
Are you trying to edit PDF File? Here is How to Edit a PDF File and Best Tools to edit PDF files
PDF (Portable Document Format) is the most widely used document format at present. Developed by Adobe in the early 1990s, PDF files have many advantages over other file formats such as DOC/DOCX, ODT, RTF, PPT, etc.
For starters, PDFs can not only contain the text but also infographics such as images, graphs, tables, diagrams, and even 3D drawings.
The best part: PDF formats never go haywire irrespective of the program, software, or device. What this means is that a PDF file contains a fixed layout and always looks the same way no matter which tool or device you use to open it. With PDF, you don't have to worry about losing any of your content or structure of your documents as it'll preserve the format of the file it was created in and will show the exact same format to all your viewers.
Features such as these and many more make PDF the perfect file format for spreading, sending, and sharing your documents. On top of that, it also allows you to secure your PDF files using a password or encryption as well as lets you sign your documents digitally.
This all-in-one document format has gotten so popular that many word-processing software such as Pages in Mac OS and MS Word in Windows have started including special features so as to be able to export documents in the PDF format.
But PDF files are mostly read-only and cannot be edited or modified further unless you're using a specific PDF editing software or tool. And that's what we're going to be talking about in this post. I'll help you get familiar with some of the best PDF editing software and tools that you can use to edit your PDF files.
Let's get started, shall we?
How to edit a PDF file?
---
Speaking of PDF editing, the first name that comes to mind is Adobe, the pioneers behind this paper-to-digital revolution. Since PDF was invented by Adobe, they were also the first to come up with a compatible PDF editing software, better known as Adobe Acrobat.
For well over a decade since the initial release of PDF and Adobe Acrobat, PDF used to be a proprietary format that could only be controlled by Adobe. But in 2008, Adobe took a leap and released the format as an open standard for the world, passing on the control of specification to voluntary industry experts. Within years, the digital market started flooding with all kinds of PDF editing tools from online to offline, from free to paid, and from standard to professional.
The major difference between these PDF editors lies in their features though. Some software allows you to edit only the text, while some tools are designed to let you edit every piece of content from images to filling up a form with fields. Some can be used online right from your internet browser while some have to be downloaded into your computer. It is always recommended to use the desktop versions of PDF editors in case you're dealing with any sensitive information that you do not wish to upload on the internet.
Another great advantage of PDF documents is that they can be processed in multiple tools for specific purposes. For instance, you can use one tool for one particular feature like editing the text and process it through another PDF editor for other functions such as editing a form, updating an image, or removing a page.
Now let's take a closer look at some of the most popular and preferred PDF tools to edit your PDF files starting with Adobe Acrobat.
Top Best Tools to edit PDF files 
---
Adobe Acrobat
Adobe Acrobat is Adobe's very own PDF application that you can use to view, create, manipulate, print, and manage files in Portable Document Format (PDF). But remember not to confuse it with Adobe Reader DC which is also a PDF reader but with fewer editing options.
Adobe Reader can only be used to view, print, comment, convert, sign and complete the forms.
Adobe Acrobat on the other hand offers more features including all the features of Adobe Reader. It comes in both standard and pro versions along with a cloud version that is known as Adobe Acrobat DC. Adobe Acrobat DC is perfect for groups and teams working in collaboration with each other as Cloud makes it easy to access and edit your PDF files from anywhere in the world 24/7. Its mobile app is also available to download & use so you can edit your PDFs on the go.
Adobe Acrobat lets you do all kinds of fancy and functional things to your PDF files such as view, print, sign, annotate, search, create, edit, convert, combine & compare forms as well as protect them. Adobe Acrobat also gives you the ability to scan your paper documents for editing purposes with OCR technology.
PDFelement
Next in line, we have one of the best PDF software in the digital world, PDFelement. Known for its wide range of PDF editing features, PDFelement can work across all the software, platforms and Operating Systems be it Windows, Mac, iOS, or Android.
PDFelement is a fast tool with a user-friendly interface enabled with OCR technology that lets you scan, extract and edit your PDF files in no time.
Make sure to use the trial version before you commit to buy.
Nitro Pro
Nitro Pro PDF editor is yet another popular PDF tool that allows you to edit files with advanced features. Not only can you edit, create, merge, review, and collaborate your files but can also fill, sign, and secure your PDF files. Nitro Pro works across all Windows operating systems and comes in two versions: Personal and Business.
Nitro Pro includes the ability to scan documents with OCR technology. Again it's always better to use the trial version before buying the software.
Foxit Phantom
Foxit Phantom PDF editor is full of functions that may not be available in other PDF editing tools. Apart from letting you edit, it can also let you merge, split, annotate, share, create, convert, encrypt, redact or sign your PDF documents. This tool is also enabled with OCR technology so as to be able to work with scanned documents.
Foxit comes in three versions: Standard, Business & Education and all of them are compatible to work across Mac and all windows operating systems. The software also comes with a 14 days trial period so that users can check and get familiar with how it functions.
PDF Candy
PDF Candy is the undisputed champion when it comes to PDF tools that are entirely free to use. Most free PDF editors come with a limited number of PDF editing features. PDF Candy, however, is a feature-complete PDF tool developed by Icecream Apps that is easy to use at any given time. Compatible with Windows and Mac, this free PDF editor is also capable of scanning documents
using OCR technology. It also provides a number of layout tools and a vast range of features for editing, creating, and converting your PDF files. Qualities such as these make PDF Candy one of the best fully-functional feature-rich PDF editors that is absolutely free.
Sejda PDF Editor
Another free PDF editor on our list, the Sejda PDF editor is known for its impressive features. The complementary version of Sejda allows you to edit, create, sign, comment, fill forms, and modify the content of your PDF files. There is no hourly limit or restrictions as to the number of documents that you can process. Sejda works across all Windows systems but does not have OCR technology and security embedded in the free version.
Thus, it also comes in 3 paid plans starting from weekly, monthly, and annual desktop plans. You can always choose the one that suits your requirements the best.
PDF Buddy
Last but not the least, we have one more- free online PDF editing tool i.e. PDF Buddy. It's an online tool which means you don't need to download and install it on your computer or mobile phone. Simply upload the file you wish to edit, follow the instructions, make the necessary changes and when it's all done, you can just save and download the edited copy to your system. Given that this is a free online tool, the features it offers are also limited. Thus, it's better to use it for simple tasks such as editing the text in files that do not contain any sensitive information.
There are dozens of other PDF editors both free and paid, with a variety of features. AbleWord, pdf filler, PDFCreator, SmallPDF, Preview by Apple to name a few with different features and capabilities. So it all depends on what you're looking for. Most simple tasks can be carried out by using free online PDF editing tools whereas if you need a feature-rich paid PDF editor with advanced functions, feel free to choose one from the list and try its trial version right away.
Author Bio 
Eshan Cheema, CEO of Zoptal Solutions Pvt. Ltd., is a strategist that has formulated and perfected the nuances of the digital marketing world. Running his company for the last eight years, he has helped many businesses to grow from the grassroots level. He believes that all it takes is that knack to take new challenges in one's stride and build strategies that would yield the intended results. With ample experience, he has been guiding the young entrepreneurs in the field to date.
About Post Author