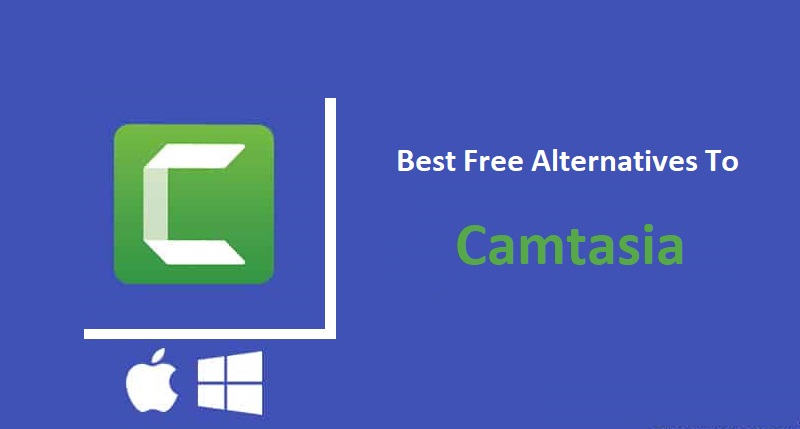 15+ Best Free Alternatives To Camtasia 2023 For Mac And Windows
Here are the 15 best free alternatives to Camtasia 2023 that you can use for Mac & Windows to record your screen and create amazing videos.
Alternatives To Camtasia: Video blogging and screen casting is the new mode of sharing information. Recording a video with screen, face comments and subtitles with live editing is trending for online classrooms, webinars and multiple other businesses. Camtasia is a one-stop solution to this task however it makes a deep hole in your pocket. Here in this article, we have compiled the best free alternatives to Camtasia that you can use in 2023.
What is Camtasia and How It Works?
---
Camtasia is the genuine product of TechSmith useful for video and tutorials creation. You can create informative videos with the aid of screencasting and recording. With the screen capturing ability of this tool, you can record videos directly from system functions. You may also edit the media created with the options available. The product will cost you around $249.00 however you can find almost similar features in these free alternatives to Camtasia.
15 alternatives To Camtasia For Mac And Windows In 2023
---
Cam Studio
Cam Studio is a freeware application with impressive features. You can well use this tool for all your system-recording activities. You may record videos from the screen or Webcam. It allows you to add audio effects to your media. The size of the output video is less, and you can cast videos with any devices.
Screen Cast-O-Matic
With the ease of use, you can use Screen Cast- O-Matic for all your media requirements. You can capture your screen activities as videos with this tool. You may make the videos interactive by adding texts, shapes, and images. You can edit the videos as per requirements to create informative media. This gadget is suitable for Windows, Mac, and Web-based platforms.
Adobe Premiere Pro
Adobe Premiere Pro is the best-in-class video editing tool. You can integrate this tool with all the devices. You may reduce the proxy in the video to decrease the size. The latest versions of the tool have advanced playback options. The gadget also supports different types of file formats.
EzVid
The EzVid is useful for a lot of media requirements. Inbuilt video maker and screen recorder of the tool can create informative videos. You can narrate your videos with computer audio for better effect. You may ensure a high-class quality of the video with this genuine tool.
Expression Encoder
Expression Encoder is the most trustworthy product of Microsoft for Windows OS. You can record videos from webcam, and capture the screen casting in a high-quality video. The videos can be put together as interactive media by adding audio. You can use microphones for Audio overlay. This tool has a limited free version with 20 minutes of video recording ability.
Final Cut Pro X
Final Cut ProX is the bonafide product of Apple. It holds a large mass of potential users. With this tool, you can capture and edit motion graphics on the go. You may feel happy to see the application supporting all HD file formats of videos. You can add rendering and real-time effects to your videos with this tool. The gadget is available for the Mac OS platform.
iMovie
iMovie is suitable for devices with the Mac OS platform. You can merge the informative clips into full-stack videos. You may also create high-quality videos by adding special effects. Adding audio to your video can increase the understanding of the video.
Filmora
You can create your own story with this interactive tool. With distinct media layers, you can add values to your videos. You may enhance the quality of your video with key framing and background noise removal. Filmora is suitable for devices with Windows operating systems.
Webinaria
As a freeware tool, you can use Webinaria for recording videos. It can record all your desktop activities as high-quality videos. With Webinaraia, you can produce and upload videos in FLV file format. Also, you can edit the videos as per requirements. You can make your video illuminating by adding texts to the media. This authentic gadget is available and suitable for the Windows platform.
Loom
Express yourself with high-quality videos. You can enjoy using the Loom gadget for making informative videos. You can make all your business activities effective with the help of loom videos. This tool supports Mac, Windows, and iOS platforms. You can capture and share your on-screen activities into interactive videos with this tool.
Pinnacle Studio 21 Ultimate
Pinnacle Studio 21 Ultimate has pro-calibre tools and colour grading controls to create interactive videos. This tool can edit videos with the help of keyframing.
Free Cam
You can create collaborative videos of high quality with the Free Cam tool. You may record your entire screen or a portion of your screen for creating media files. Adding your voice audio or external audio can enhance the excellence of the video.
FlashBack
Flashback can create an excellent portrayal of your memories to recall your flashbacks. This tool, with higher-end editing and annotation options, can produce good quality videos. You can record your on-screen activities with start and end titles.
PicPick
With the PicPick tool, you can capture and share all your screen activities as videos. Also, you can edit videos and images as per the requirement with this gadget. This genuine tool works with Windows operating platforms.
Droplr
Droplr can be useful in sharing media files with the Mac and Windows platform. With this tool, you can take screenshots as well as record screen activities as videos. You may save your media in cloud memory for future usage.
Bonus TweakShot Screen Capture to capture Screens as well to take Screenshot
---
TweakShot is one of the best screen capture, screen recording and photo editing tool for Windows. This is one of the fastest ways to capture videos, edit photos, add special effects and capture full or partial screenshots. It is best for taking a screenshot of the entire browser page in one image, capture single-window screenshot out of multiple windows open on your screen. TweakShot is loaded with best in the class Photo editing suite with rich features. Now capture screen recording with mouse clicks, movements and scrolling windows.
Conclusion of the content
If you have piled up a lot of screenshots and duplicate images during the process of creating or editing videos and cover, you can make use of one of the best Duplicate Photo Fixer Pro to find and eliminate duplicates. This will also take care of duplicate videos downloaded or created accidentally. This software is available for Windows, Ios, Mac and Android.
Screen sharing and screen recording is an easy way to communicate with all. You can express yourself more effectively in the form of a video. Camtasia is one of the best tools for Mac and Windows platforms. You may try and make use of these free alternatives that best suite your need for video recording.
About Post Author