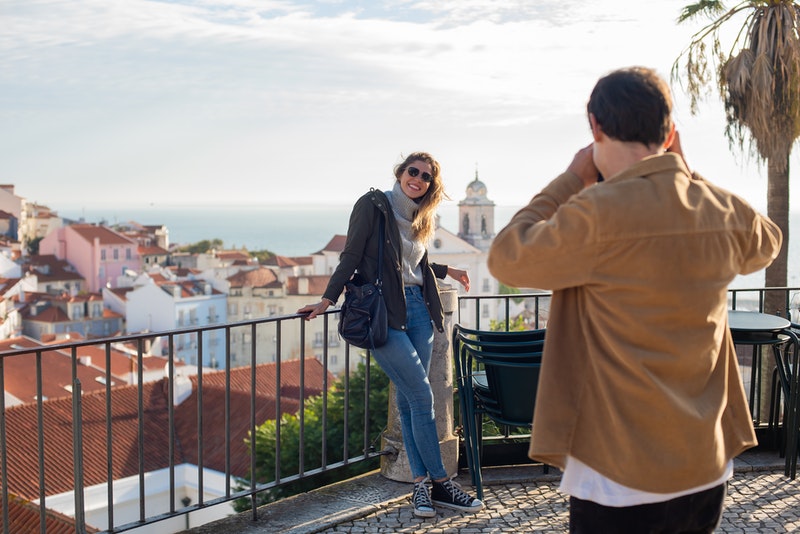 40 Best Travel Apps to Download During the Traveling Time
While this old adage refers to work, we believe it also applies to your vacation. Why make going on a relaxing vacation so difficult and time-consuming when it could be a piece of cake? These travel apps are intended to help you get the most out of your vacation while avoiding the stress that is often associated with it. We've compiled a top 40 list of the must-have holiday apps to make your trip more enjoyable. The applications have been divided according to categories, that will further help you choose the right one for you.
Citymapper
Citymapper assists travelers in finding the quickest route to their destination by providing the quickest routes as well as step-by-step instructions on where to find the nearest bus and train stations. You'll be able to see when the next arrivals will be at each of these locations, and you'll get updates every minute thanks to real-time routing. The app also includes a chat feature that allows you to keep friends and family up to date on your location in real-time.
PackPoint
Have you ever opened your suitcase only to realize you forgot to pack something? This intelligent packing app will advise you on what to pack based on the length of your trip, the weather at your destination, and the activities you intend to participate in during your trip.
MyTSA
Airport travel, particularly in the United States, can be perplexing and intimidating. MyTSA, a U.S. government-sponsored app, demystifies all of the rules you must follow in order to avoid a stare-down and potential delays by security agents doing their jobs. Discover which items you can bring through the security checkpoint and onto the aircraft, request live assistance from the Transportation Safety Administration, determine how historically busy your preferred airport will be on a given day, compare crowd-sourced security wait times and offer your own estimates, check for delays and current weather conditions.
Planning to visit India? Find amazing treks, camps, and sightseeing tours at the best price here!
Skyscanner
Skyscanner has you covered for flights, hotels, and rental cars. The app searches its travel partners for the most affordable and best options. You can see the cheapest dates to fly, and you can also get alerts when prices change, similar to Google Flights.. You can now track your bookings in trips with status updates and move booked flights from one trip to another.
Kayak
Kayak is the go-to destination for many people when it comes to trip planning, and for good reason. Kayak, like Skyscanner, searches multiple travel sites for rental cars, hotels, and flights. Kayak frequently has exclusive deals, and you can use Price Forecast and set price alerts to determine whether you should buy now or wait. These details are also available in real-time and on devices such as the Apple Watch. The app now suggests hotels upon launch and can even pinpoint results if you're traveling with children, and the car search now accepts addresses.
Hopper
Hopper provides an app that forecasts airfare and hotel rates and notifies users of fresh deals. The startup, founded by Frederic Lalonde, a former Expedia vice president, also allows clients to freeze the price of a flight for up to two weeks, giving them additional time to book. Capital One's new service will make use of Hopper's technology to provide price prediction and alert technology for flights, hotels, and rental cars. Cardholders will also be able to simply amend or cancel reservations. In recent months, Capital One has been looking to extend its travel products. In August, it bought the flight-protection firm Freebird and announced intentions to build an airport.
Airbnb
Airbnb is a household name, regardless of whether it is legal in the place you are visiting. By allowing you to stay with a local or in their house, the app competes with hotels by giving much lower pricing and a more real experience. The app also has a Trips function that allows you to choose from a range of Experiences throughout your stay – these are selected activities in which you can participate with local guides. The software will eventually be an all-in-one travel app that allows you to organise your day, hire a car, and do other things. The most recent version enhances browsing functionality with a new search method.
Hotel Tonight
Were your Airbnb plans thwarted? Were your flights delayed during your layover? In the event that something goes wrong, the Hotel Tonight team is available to you 24 hours a day, seven days a week. The app now has a Daily Drop feature that offers a super-low-cost deal for the day. You can also book multiple rooms at once and broadcast the information via group chat.
Booking.com
Booking.com allows you to find the best hotel deals at the last minute or in advance. The useful hotel comparison feature allows you to compare features and prices, and there are over 135 million reviews from other users to help you choose your lodging. For your next trip, you can book hotels, motels, bed, and breakfasts, and luxury apartments in seconds, with paperless confirmation, no booking or credit card fees, and 24/7 support from the Booking.com team.
Uber
Uber is the global king of ridesharing apps, offering rides from 600+ airports in over 10,000 cities worldwide. The app pioneered on-demand services, and it can be especially useful when traveling abroad. After perusing a variety of different vehicle rates and fare quotes, you can quickly request a car within the app. Following that, you can communicate with your personal driver, track the location of the approaching car, and securely pay your fare with a credit card — no cash required. Rather than looking for a taxi or a taxi stand, have one brought to you.
Google Maps
Google Maps is a must-have travel app. It provides directions for traveling by car, public transportation, foot, cab, or bicycle. It is fairly dependable in providing local options for public transportation or if you plan to go on foot. You can also use Maps to find out when museums and restaurants close and to see how busy a location is in real-time, in addition to using the app to find local restaurants, bars, and attractions. You can even search for hotels based on amenities such as free Wi-Fi, pet friendliness, or air conditioning.
Xe Currency
While it isn't the most visually appealing app, Xe Currency is one of the more powerful currency converter apps available for both iOS and Android. It is constantly updated and provides live exchange rates for all world currencies and precious metals. What's cool is that it can save the most recent rates so you can access them even if your device isn't connected to the internet. Support for Siri Shortcuts is also a plus. You can now monitor up to 20 currencies at once.
Mobile Passport
Mobile Passport allows you to enter the country without having to wait in line and is officially authorized by US Customs and Border Protection. To avoid long lines, simply download this app and enter your passport information — which you can do quickly by scanning it with your phone's camera. Mobile Passport is accepted at over a dozen airports across the United States, so check ahead of time to see if your airport accepts the app.
TripIt
TripIt organizes all of your travel plans in one place; simply email them your confirmations, and they'll create a master itinerary that syncs to your calendar and can be shared with your travel companions. You can even use the app to store your travel documents. Upgrade to Pro for $49 per year to gain access to additional features such as flight alerts, terminal notifications, and seat tracker.
Tripadvisor
When it comes to travel, Tripadvisor is a one-stop-shop. You can quickly browse millions of reviews, opinions, videos, and photos about just about anything related to your trip — bars, restaurants, hotels, airlines, and so on. You can use Tripadvisor's Near Me feature to find well-reviewed places nearby, but the best feature the app has to offer is the number of countries it supports — it's pretty much everywhere, making it a must-have guide for any traveler. You can also use the app's forums to ask specific travel questions or add your own reviews, much like Yelp.
Yelp
Yelp has officially become the Yellow Pages of restaurants and bars, with users not only in the United States but all over the world. Yelp also provides operating hours, a phone number for listings, and sometimes even a menu, so you can be as prepared as possible before going out. Throughout the year, businesses have been adding more health and safety information.
WiFi Map
If you need to get online quickly without paying for a cellular connection, WiFi Map is the place to go for global information. The app provides full map navigation to get you to your destination, as well as the ability to filter your search and test your connection speed. A network scan looks for potential intruders. You can also create new Wi-Fi connections to assist other travelers in your area.
Google Translate
Google Translate provides translations between more than 100 different languages, which are now more conversational thanks to machine learning, and allows you to listen to translations out loud as well as translate dictation and your own handwriting on the screen. You can bookmark your favorite words or phrases for later use, view dictionary results for a single word or phrase, or use Siri Shortcuts for bilingual conversations. More regional options for speech in English (the United States, the United Kingdom, Australia, and India), Bengali (Bangladesh and India), French (France and Canada), and Spanish are on the way (Mexico and Spain). In nearly real-time, you can now continuously translate someone speaking a different language
Duolingo
If you've planned your trip for months, try learning the language in Duolingo. It provides beginner-level courses, but it's also a great resource for those looking to brush up on their language skills. You can also chat with bots in specific languages, which can be especially useful when trying to learn the phrases you're likely to use the most when traveling abroad. You can take placement tests to advance to more difficult sections. Leaderboards encourage you to compete with other users.
Memrise
Memrise supports more languages than Duolingo and uses mnemonics to help you remember words and phrases. When you first try a new word or phrase, you can view video clips of native speakers to hear the local pronunciation. Swipe to hear additional audio and compare different pronunciations. The app, according to the company, adapts to your learning style over time, and there is a pro version that unlocks even more features, such as an offline mode.
Circa
If you travel a lot, changing time zones and dealing with jet lag can make your travels extremely confusing. You can program a clock to match the time in your home country or in a location where your loved ones are. The app highlights times when both parties are likely to be awake in both locations. The calendar ring displays your current availability, or you can continue swiping to find an open time slot. This app is also Apple Watch compatible.
WhatsApp
WhatsApp now has more than one billion users. No matter where you are in the world, the app is free and runs on a Wi-Fi connection. Send stickers, photos, or videos to your contacts to spice up your conversations. To unlock the app, enable extra security features such as Face ID or Touch ID. To send messages via WhatsApp, you must have Wi-Fi or a data phone plan, but there are no international calling fees. The only disadvantage is that you can only communicate with people who have downloaded the app.
NordVPN
If you use a specific app to stay in touch with loved ones while traveling, but that app isn't available in certain countries, such as China, you'll need to get creative to avoid falling off the map. We recommend using a virtual private network to avoid this problem (VPN). VPNs make your private information inaccessible to others who may be on the same network, making public Wi-Fi safer to use. NordVPN is our favorite service, in part because it has thousands of servers all over the world. This service will cost you about $12 per month, but you can try it out for free for seven days to see if you like it.
Lyft
Ridesharing connects you with a nearby driver who will pick you up and drive you to your destination. Lyft is the app that allows you to get a ride in minutes. Simply tap request, and a driver will appear. By using Lyft, you can assist your community in reducing traffic and removing cars from the road. If Lyft were significantly less expensive than Uber, Uber would go out of business, and vice versa. Both have basic rideshare costs of about $1, to begin with, $2 per mile, and $0.25 per minute.
Google Trips
Google trips is a travel application that will help you sumarise your trip when you start to plan about it. The now-defunct app debuted with comprehensive day guides to more than 200 major cities.
Skip lagged
Skiplagged popularised hidden-city ticketing, often known as "throwaway ticketing." To save money, throwaway or hidden-city ticketing occurs when you purchase a multi-stop flight but do not complete the entire itinerary – i.e. throw away your ticket. Skiplagged has packed this ticket booking strategy into an online flight and vacation search engine that you can use to book cheap flights and hotels. However, in terms of how it finds and displays cheap flights, it differs significantly from other online travel agents (OTAs) such as Priceline and Expedia.
VSCO
VSCO is a digital tool that allows you to take amazing photos without the use of pricey software. It's a little more artistic than Instagram, the main photo-sharing app, and has long escaped some of Instagram's peer pressure.
Snapseed
Snapseed is without a doubt one of the best Photo Editing Apps available. If you are not convinced by the features available in basic editing software and do not wish to delve into the complexities of a more professional photo editing tool. Then the snapseed app is exactly what you need. To put it another way, the snapseed app allows you to achieve all of the features and quality editing that you would find and expect in professional photo editing software. However, you won't find any of the extra complexities that you might find in such professional apps. As a result, it is the ideal simple photo editing app for producing professional photos and images.
Face tune
Facetune2 is the world's most popular selfie editing app, with over 100 million users worldwide. Smooth skin, whiten teeth, remove blemishes, contour features, and apply makeup better than any other selfie app available. You'll feel great about every photo you post with so many fun and powerful retouching tools at your disposal.
PolarSteps
The concept is simple: schedule your trip times, and your smartphone will do the rest. It checks your location on a regular basis and publishes its findings to a webpage so that your friends and family can track your whereabouts. Over 3 million explorers have used Polarsteps to plan and chronicle their adventures. This all-in-one travel app shows the world's most appealing vacation destinations, offers insider recommendations, and tracks your route, locations, and images while you're on the road. As a consequence, you now have a gorgeous digital world map that is completely unique to you! You'll also be able to put it all into a hardcover Travel Book after you're through.
Evernote
Capture ideas as they come to you. Evernote syncs across all of your devices, allowing you to stay productive while on the go. Use Tasks to manage your to-do list, connect your Google Calendar to stay on top of your schedule, and quickly access your most important information with a customizable Home dashboard. Evernote's new version is now available for Android versions 10 and up. The Evernote Legacy app will be available to Android users running version 9 and earlier.
Been
Keep track of the countries you've visited. The app makes a map of your whole journey, making a perfect way to sumarise your trip and use it as a reference in the future. For your device, the Exposure Notifications System will generate an anonymous token.
LoungeBuddy
LoungeBuddy makes the process of getting the accommodation a smooth one. Very easy and comfortable to use, it will list all the local options according to your budget. Even if you don't have any of those things, the app will notify you of any free lounges or ones where you can purchase a day pass.
AirHelp
If you've ever experienced the agony of a delayed or canceled flight or been denied boarding due to overbooking, AirHelp is for you. Although the details differ, both US and EU laws provide for compensation in such cases. However, it is a complicated process, and it appears that less than 1% of passengers who are entitled to compensation receive it. This app simplifies the process and allows you to complete it in a matter of minutes while still waiting at the airport. Simply enter your flight information and a few details about the issue, and the company will handle the rest.
Hostelworld
The app helps you find cheap accommodations in the form of hostels. Hostels can be very cheap and reliable when compared to hotels. The full-screen interactive map makes it simple to determine whether the hostel you're interested in is close to where you want to be, and those all-important reviews are just a tap away.
TripIt
TripIt assists you in organizing your upcoming travel itinerary. Simply forward your hotel, restaurant, flight, and car rental confirmation emails to [email protected], and it will automatically transfer all of the information to your master itinerary, allowing you to view all of your upcoming plans at once. If you upgrade to the pro version, the company will find you alternate routes if your flights are canceled, as well as send you automatic notifications from airlines about flight delays, cancellations, and other information. This is the best app to have if you travel frequently and have a lot of bookings to organize.
OpenRice
OpenRice is Asia's Yelp. It displays the most popular restaurants in a city, as well as ratings, menus, booking numbers, and everything in between. It's popular throughout Southeast Asia and a better resource than Yelp. Listings are available for Hong Kong, Malaysia, Indonesia, Singapore, Thailand, and the Philippines. The app puts the website's power at your fingertips.
Trail Wallet
Trail Wallet is a simple way to keep track of your travel expenses. I used to have a similar app but updating it was too difficult. This app has now surpassed all others. It alleviates the burden of expense tracking. You can easily organize your expenses by trip or month, create a daily budget, and add expenses. When you receive a bill or receipt, simply pull out your iPhone, enter the amount into the Quick Add screen, and you're done.
Couchsurfing
If you want to save money on lodging and meet locals while traveling, this is the app for you. Couchsurfing connects you with locals who have spare rooms in their homes for visitors to stay for free. The accommodation is usually not fancy (hence the name "couch" surfing), but it is free, which will help you stick to your budget. You'll have a one-of-a-kind opportunity to learn more about the destination from someone who lives there if you stay with a local.
HEHA!!
A fantastic app for the 'planning and preparation stages of your vacation. HEHA!! will compare all the best travel extras such as airport parking, airport hotels, lounges, transfers, and much more with a single search, and it will cleverly tailor these towards your trip based on your flight, destination, and any app history you have. It removes a lot of the chaff, so to speak, – the less-than-ideal options out there that would otherwise slow down your search. It focuses on doing a lot of the legwork for you in terms of finding and booking these extras, as well as saving you money.
Flightradar24
You can keep an eye on the skies and get up-to-date information on aircraft around the clock with our flight tracker. You may stay up to date on delays, cancellations, gate changes, and diversions by using the Flightrader24 app. You can even search up a flight's history!
Airline Apps
Okay, it may appear that filling one of the slots on this list with a group of apps is a bit of a cheat, but the app for your specific airline can be extremely useful. You can use them to check-in, check flight statuses, select your seating, and store your flight tickets and information.
About Post Author