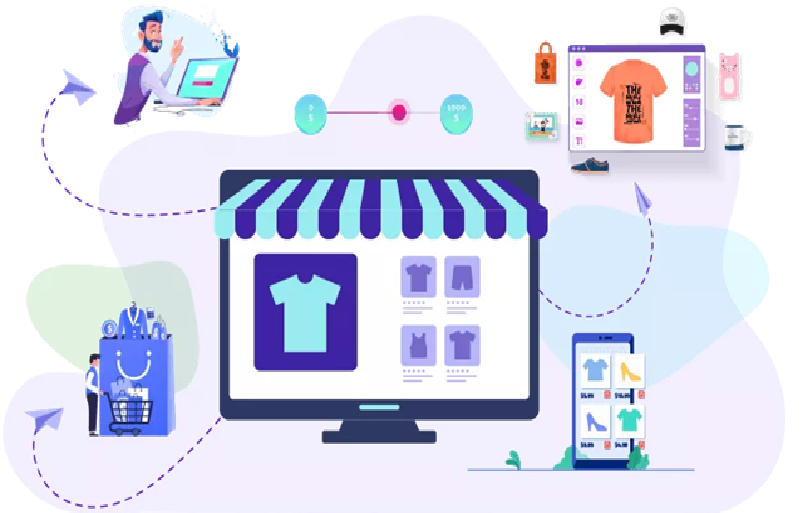 10 Best T-Shirt Design Software One Should Try In 2023
Best T-Shirt Design Software: Favorite characters, dialogues, poetry lines, and some dreams of your own, anything can inspire one to paint that plain t-shirt into some art work. And inspirations are not meant to build home in our heads only. Execute everything that your mind sings with by designing your customized t-shirts. With the help of t-shirt design software and its rich features it can be done easily.
T-shirt design software allows you to design your mind on your t-shirts with the help of its features and offering. If you are someone who wants to design their own t-shirts or one who wants to sell them all around, this software is what you need for both. You might have heard of a few software that made cloth customization possible. But how to know if that software is the one for you? Questions like- is it for beginners or professionals? Is it free or paid? What are the features that can help me, and how? To answer all of these questions, we got you a
List of the ten best t-shirt design software. 
---
Brush Your Ideas
With 10+ years of experience and the trust of 100+ online stores, Brush Your Ideas is a complete Web-to-Print software solution developed by ecommerce industry experts. Their product designer plugin comes with a bundle full of features like:
Text and image input
Clip-art Manager
Object Handling
Custom Font Manager
Name & Number
Quotes
Customizable Text and Messages
Your customers can design new or customize print-ready designs. They will have a huge library of images, texts, clip-art, and readymade templates to help them in creating personalized designs. It enables your customers to create their designs on any and every device because you never know when creativity alarms your head, right? You can integrate this t-shirt design software with any of the ecommerce platforms.
Adobe Illustrator
If you are a professional illustrator, this is an absolute catch for designing those high-quality t-shirts with its tools. Adobe illustrator is not recommended to use for occasional designing. Adobe Illustrator focuses on vector images, which allows you to adjust the scale of a text without compromising the final quality.
You will have your designs that look as clean on a t-shirt like on a business card. If you are thinking of screen-printing your design, illustrator simplifies the process of creating layered, spot-colored files that your print shop needs. Adobe offers tutorials with attached sample files to help beginners.
GraffixPro Studio
It is a paid version, and you will have to contact its team for a demo. If you want to pursue t-shirt printing as a source of living, then this software is for you! It includes over 45 fonts, more than 350 images, and numerous t-shirt templates.
This software even lets the beginners try their hands on it with all ease. It has features to add a distressed look or shadows as well as a doodle with the artwork. You can apply either your own artwork or use it from the library for readymade designs.
Some of its additional features include:
Barcoding: Whenever you create a job or an order, it will automatically create a unique barcode.
Quote Generator: You can save time by using the quote generator whenever you receive any inquiries.
Inventory management: This is a real help required by all business owners. This feature will keep track of all your stock, including minor details. If any particular design is low on stock, it will even let you know to print some more.
Placeit
This designing software is helpful for both- newbies and professional designers to create designs for custom t-shirts. It is one of the leading online t-shirt designing software available today. It has hundreds of templates to start with and is easy to try your hands on. It doesn't showcase thousands of clip-art images but has a curated selection that focuses on each segment of the template. This speeds up the process, which leads to a better result. You can also customize colors, backgrounds, and fonts.
The changes that you make to your designs reflect in the mock-ups in real-time. By clicking on modeled images, you will get a larger version of it. You can choose from many similar options. It even lets you upload existing artwork. You can download any mock-ups or designs by paying a nominal charge or can even opt for its unlimited monthly subscription.
GIMP
Known as a professional substitute for Photoshop, GIMP is an open-source graphics editing software. If you are a one of the professional graphic designers, who is looking for an affordable alternative for Photoshop level editing, then this is must-try software.
You can take help from free tutorials and YouTube to get handy on this software. You can also go for paid courses that focus on improving your skills and help you in creating great designs that you can export in a suitable printing format. This software is available for Windows, Linux, and macOS.
CorelDraw
It's one of the most popular software solutions for t-shirt design. One of the best features of CorelDraw is that it creates vector graphics and allows you to work with different formats as well. It has a vast library with:
7,000 clip-art images
1,000 high-resolution images
150 ready-to-design templates
1,000 typefaces
600 fountain, bitmap, and vector files.
You can even add text, graphics and join different images together. There are tutorials for beginners to learn how to use the services.
It has pre-designed templates, images, which are ideal for designers who need practical materials. Some of the other features include shadows, symmetrical designs, mosaic, etc.
They also have one new feature— Non-Destructive Effects. It lets you experiment with various effects on your picture without changing the source image.
It comes with a 15-day free trial. Later, you can buy it outright or go for its annual subscription.
Fatpaint
Fatpaint is a 'free to use design software. And guess what? This software doesn't need to be downloaded or installed. All you will need to do is to log in and should have Adobe Flash, and that's it. You can start creating your masterpieces. It has more than 900 typefaces, 3D templates, and a massive collection of vector clip arts is all included in its features list.
This software simplifies the designing process to modify your design with other elements and tools. You can use your old artwork or create a fresh one. The only drawback here is — advertisements. But if you want to escape the popping ads, you can become a Pro subscriber.
InkXE
You can use this web-to-print designing software across all web browsers and devices. It is packed with many features. Business owners and professional graphic designers can use this software. This software supports almost all types of printing methods like heat print, sublimation, DTG print, and more. It even allows users to upload pictures from their devices or from social media sites in any desired format.
The software keeps a check on the resolution of the image on its own. The masks and filters which are added in the software allow you to modify or remove colors from your designs. You can convert the images to grayscale or else vectorize them with ease. It has more than 10,000 free cliparts besides templates and shapes. You can use these elements, or you can even create your own template, shape, or clip-art by using their tools. This software has background patterns pre-installed in it. Isn't that fascinating?
Adobe Photoshop
It is a part of Adobe Suite. It is not similar to that as it is not a vector application and has different use cases. You can create unique effects, edit high-quality designs, and edit images too. Just like Illustrator, here you can work on Photoshop. The only difference is that its images are not vectors, meaning the designs you create won't be suitable for screen printing. It can be suitable for DTG printing.
InkSpace
Affordable, powerful, and flexible describes InkSpace perfectly. It is an open-source vector-based free design tool that has similar features to Adobe Illustrator. You can use other users' designs and files that are accessible for its community. But there are not any t-shirt temples or tutorials available with this software.
Once you learn how to use this software, it becomes easy for you to apply your creativity and make attractive designer t-shirts. It is available for Windows, macOS, and Linux. You can turn an existing bitmap image into vector images by using a tracing function. This enables you to scale up and scale down any image into desired sizes. You can even export it in a suitable format for screen printing. Inkscape also provides image formats such as .jpg and .png.
Wrapping Up
Now that you have a list of the ten best t-shirt design software, you can easily verify the desired requirements with the software's services. You can even see live demos or request personalized demos to understand how software can benefit you and how it can fulfill your requirements. Quality, quantity, prices, necessities, support, and features are some of the main factors to focus on before finalizing your choice.
About Post Author