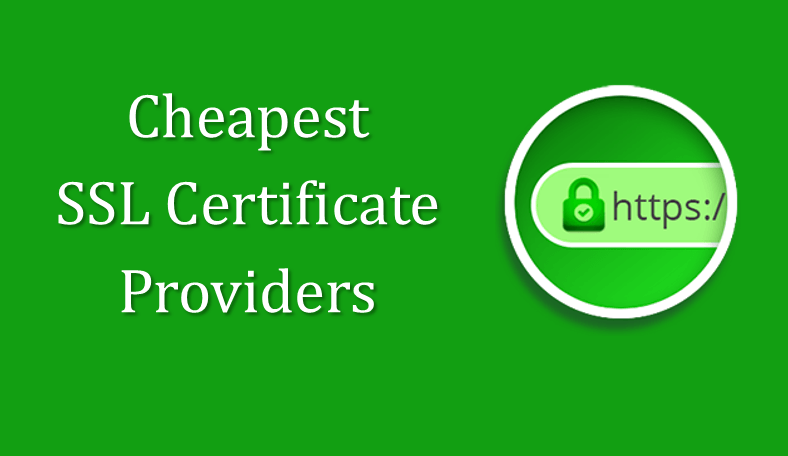 Top Best SSL Certificate Providers to Buy From in 2021
Are you finding best and cheap SSL certificate providers? Then you are at right place, here are top cheap SSL Certificate providers for 2021
After the entire phase of procrastinating and planning, you have finally said yes to your dream business. You have invested your blood and sweat to bring it to a point where you are ready to engage with your customers.
As all online businesses must make sure that the information, they are collecting from their customers is secured. It's time to pay attention to security so that your customers as well as the search engines can trust you.
 The standard practice is to get SSL certification for that. For those who don't know anything about it, here is a brief description of what it is. Then it is followed by a list of the best SSL certificate providers in 2021.
What Is SSL?
SSL stands for Secure Sockets Layer also known as Transport Layer Security (TLS). Technically TLS is the updated version of this protocol but the use of the term SSL is so widespread that it is still is common. Without further due, let us see what it does.
SSL is a security layer that ensures encryption of the connection between the web server and web browser. When the data is encrypted all of the data passing between the two is also encrypted and that adds a layer of protection.
What Is SSL Certificate?
If you are to establish a secure connection, you need to acquire an SSL certificate. You have to purchase an SSL certificate from service providers, activate and install it to get an encrypted SSL connection. Once your business has been verified, you will receive a certificate and your users will be able to see a padlock icon with your URL. It signifies that your website is secure to surf and provide information.
Best SSL Certificate Providers
Now you know what it is, here is a list of the top SSL certificate providers. All of the following are good at what they do. All you need to do is to compare the costs and choose the one that's suits your budget.
GoDaddy
GoDaddy is a web-hosting giant but it also does SSL with an interesting spin. The SSL protects all your sites and subdomains. There is a web application Firewall that prevents DDoS attacks. It is excellent on the security front as it offers SHA2 and 2048-bit encryption, and the trust seal provided by McAfee Secure.
If you are a business dealing with major transactions or sensitive data, GoDaddy is a reliable choice. Currently a single site, (DV, OV, or EV level) costs $94.99 per year with $63.99 for the first term. The all-level domain solution is only $449.99 per year. Watch out for renewal prices.
DigiCert
With its 24/7 customer support service, DigiCert is one of the most reliable SSL certificate providers. In 2017 it completed an acquisition of Norton's website security and related PKI (Public Key Infrastructure) solutions.  It offers ECC, RSA & DSA algorithm support and is nearly 100% compatible with browsers and systems. Its basic plans start from $279 per year. You can choose from their professional and more secure encryptions as well. DigiCert offers a 30-day free trial with a $1,500,000 warranty. Its starting prices aren't the cheapest but it is bolstered by the Norton acquisition.
GeoTrust
If you are looking for a service provider that is trusted by the masses, GeoTrust is your option. It is trusted by 99% of web users. It offers up to 256-bit encryption and a comprehensive selection starting with domain-level and progressing up to its True BusinessID with EV level certification. Its enterprise solutions are specifically tailored to government organizations, financial institutions, and healthcare businesses. Be prepared for long waiting times for verification. The pricing may seem too high for companies looking for a certificate for a single website but the prices are more competent at the higher end.
Thawte
Thawte is a veritable SSL giant with its reliable certificate management tools. Its selling points include impressive browser compatibility and up to 256-bit encryption. For the businesses that need EV level certification, the price is $141.71
for a 6-year plan. They promise to complete the background checks in one to three days maximum.
Comodo
The commendably aggressive pricing of Comodo makes it one of the most popular SSL certificate providers. The DV level 'Positive SSL' Certification costs just $7.02 currently for five-year coverage. If you are looking for a 'Premium' SSL solution it only costs $54.09 for five years. The premium package includes a fully validated certificate, 256-bit encryption, and a $250,000 warranty for your safety.
Conclusion
As you venture into the digital world, get your business SSL certified from any of these providers to offer a safe and secure experience to your customers. And you are all set to kick off your digital marketing campaign by listing your business in the top directories such as citylocal101.
About Post Author