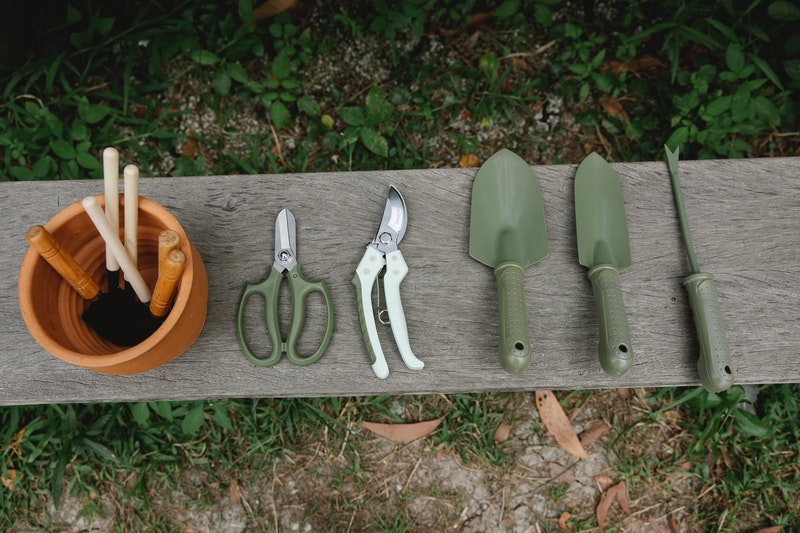 10 Most Popular Gardening Tools for Your Garden
Planting plants in a garden is easy; taking care of them and maintaining their surroundings is the real challenge. If you have taken up gardening as your hobby and set your own garden in your home, you should buy the basic gardening tools to keep your garden growing and thriving. Here are the 10 most useful gardening tools available on amazon that you can get at affordable rates.
Gardening Gloves by DIGZ
While working in a garden, your hands come in contact with hundreds of different bacteria. Pinching or handling plants with bare hands increases the risk of scratches; some plants are poisonous, so they can cause swelling if you touch them without any gloves. This is why gardening gloves are a necessary gardening tool to prevent cuts, protect hands against sting bites, and keep hands and fingernails clean. DIGZ Gardener Gloves are a great pair of work gloves that you can get at an affordable rate. These gloves have touchscreen-compatible fingers. So now you do not have to remove your gloves while working using a mobile phone. This adjustable wrist band allows a secure grip and prevents any dirt from getting inside. These gloves have a beautiful pattern of blue leaves on them for a pretty appearance. The area of the palm and knuckles have soft padding to ensure you enjoy a comfortable experience.
Pros:
The fingertips are touchscreen compatible.
The design is fashionable.
The absorbent terry cloth keeps your hands dry by absorbing sweat.
Cons:
The Velcro of the wrist band may loosen over time.
Garden Tools Set by Aladom
What if we tell you that you can get a whole set of all the most useful gardening tools in just a single package at an affordable rate? It would be the most practical purchase as it will solve most of your gardening tool problems all at once. Aladom Garden Tools Set is a 10-in-1 gardening kit that contains a weeder, rake, transplanter, pruner, trowel, gardening gloves, gardening tote, sprayer, weeding fork, and a hand fork. All of these tools are medium-sized and perfect for small gardening tasks. The handles of the tools are all ergonomically designed and have non-slip covering to allow you a comfortable grip. The gloves that come in this package are water-resistant and have fingertip claws. The tote bag lets you store all these tools in a single place. This package makes a great gift for any gardening enthusiast. Plus, the garden plants will love it!
Pros:
It is an all-in-one package that contains all the essential gardening tools.
All the tools are made from high-quality aluminum alloy.
You can carry all the tools at a time in the tote bag that comes with the package.
Cons:
Not suitable for heavy-duty tasks.
Pruning Shears by gonicc
If you have plants in your home or in your home garden, you may already know the importance of pruning and trimming the branches every now and then. You cannot do so using the usual pair of scissors; you have to use the professional pruning shears or Secateurs. gonicc 8″ gardening shears are Amazon's Best Seller due to their fine quality. Its blades are made from high-carbon steel, so they easily cut through thick stems and branches. The non-slip handles are ergonomically designed for a comfortable grip and are made from aluminum + PVC to increase their durability factor. These gardening shears can be used to cut tree branches that are about ¾ inches in diameter. This pair weighs only 8 ounces; it is lightweight and easy to carry.
Pros:
The blade is made from ultra-fine polishing technology, so it cuts through branches and stems easily.
The blade is coated with a non-stick covering, so it prevents sap from sticking to it.
The handles are made of non-slip material to ensure a secure grip.
Cons:
These shears are not designed for small hands.
Soil Tester by Sonkir
Every plant has different requirements about its soil pH. So how do you know if your plants are growing in the correct pH range? By using a soil tester. Soil testers not only let you examine the soil pH but also tell you its fertility, nutrient deficiency, or moisture level. The best soil tester that you can get for your garden is the Sonkir Soil pH Meter. It is a great tool kit that can be used for home gardens, whether indoors or outdoors. It is a 3-in-1 tool that lets you check soil's pH, moisture level, and sunlight level. It is a high-performance tester that gives you the most accurate results due to its double-needle technology. A plus point about this tool is that it is easy to use and does not operate on batteries; you can use it anywhere, anytime.
Pros:
This tester has 3-in-1 functions.
It is portable and lightweight.
The double-needle detection technology makes it the most efficient soil tester at a budget-friendly price.
Cons:
The measurements are written in small font.
Weeding Tool by SAIPRO
If unnecessary weeds are growing in your garden, your plants may not grow at all! It is because, weeds take up all the essential nutrients from the soil and leave no food for the plants to absorb. This is why you should regularly remove weeds from your garden to ensure the healthy growth of your other plants. Let us tell you about one of the best weeding tools. Garden Hand Weeder by SAIPRO is a lightweight weeding tool that you must buy for your home garden. It is an 11 inches long weeder that has a high-quality stainless steel fork. The fork is split from the tip to let you easily take off in-grown weeds and small growths. The manufacturers guarantee on the quality of the fork that it won't rust and it won't bend if extensive force is applied on it. The handle is made from oak wood, and its design is made on ergonomic principles. You can easily pick up dandelions, invasive grasses, or weeds with this heavy-duty weeding tool.
Pros:
Weighing just 3.2 ounces, it is a lightweight tool.
The natural ash oak handle is comfortable to hold for an extended time.
The fork is sturdy enough that it does not bend.
Cons:
It is small-sized, so it can only be used for small weeds.
Watering Can by Darice
Watering can is a versatile tool that has a handle and a funnel. It is a steel container that is used for watering plants and shrubs. If you want a good-quality watering can at a cost-effective price, you should go for Darice Watering Can. It is made from galvanized metal, so this product is more reliable and more durable. This one comes in shiny silver color and looks great with any set of gardening tools. If you are thinking about the heavyweight due to its metal structure, let us assure you this product is easy to carry around, as it weighs only 4.8 ounces. This watering can have a capacity of 2.5 liters, so you can water all of your small plants with it in a single go!
Pros:
The galvanized metal makes this item a long-lasting one.
It is small in size and portable.
Due to its classy exterior, it makes a great addition to garden decor.
Cons:
It is not suitable for watering large plants.
Rake by Corona Store
To maintain your garden, you must clean it often. Fallen leaves, hay, or grass can be collected with this tool. It is also used to level ground and move soil around. So, we can say that the garden rake is also one of the most useful gardening tools. For buying the best garden rake, we have a top pick for you. Corona GT 3050 Extendable Handle Rake is a high-functioning, versatile rake that will ease gardening and maintenance for you. The handle of this lightweight rake can be extended from 18 inches to 32 inches. This handle is made from aluminum, so it is easy and comfortable to grab. The head is heat-treated to increase its durability. The head has a protective coating that makes it rust-resistant. Due to the presence of hanging rings on the handle, you can store this rake without any inconvenience.
Pros:
It is a lightweight tool as it weighs only 1 pound.
The handle is extendable, so you can adjust its length according to your posture.
There is a non-slip gripping band on the handle to allow a comfortable grip.
Cons:
The head is small; it has 7 tines only.
Gardening Lopper by Fiskars
Even if you already have small, heavy-duty secateurs, you need to buy gardening loppers to complete your gardening tools set. Loppers are long-handled pruners that are used to cut thicker branches and hard-to-reach stems that are more than 1 inch in diameter. In our opinion, Fiskars 391461-1003 Bypass Lopper is the best pair of loppers that you can buy for your outdoor garden. It is a 28-inches long gardening tool that is perfect for cutting tree branches and bushy shrubs. The blade is made from fine-quality stainless steel, so it does not lose its sharpness over time. The blade is rust-resistant and has a non-stick covering. At the rear side of the blade, there are shock-absorbing bumpers to ensure a smooth pruning experience. Thanks to the full-time warranty, you can buy this product without any trust issues or doubts.
Pros:
The handles have a weather-proof coating.
The rubberized part of the handle allows you a strong grip.
The wide-cutting jaws are great for cutting tree branches.
Cons:
It is hard to use on thicker branches.
Shovel By Radius Garden
Shovels are used to dig holes in the soil or move loose materials. Most gardening shovels have slightly concave blades with long handles, while others have short handles. It's up to your needs what shovel you buy for your garden. But, we recommend you to go for a medium-sized shovel that can then be used in almost all gardening tasks. Such a versatile shovel is Radius Garden 22011 Root Slayer Shovel that comes in red color. Its blade is made from carbon steel, and it weighs just 5 pounds. As the blade is designed in an inverted V-shape, it can easily cut through thick roots and compact dirt. The sawtoothed sides of its blade make it easier to dig into hard surfaces. Its blade is rust and corrosion-resistant and requires minimal maintenance.
Pros:
It is a durable product, as its blade is made of high-carbon steel.
The shape of the blade is perfect for easy digging.
You get a lifetime warranty for this gardening shovel.
Cons:
It is a bit expensive as compared to other similar products.
Garden Hose by GrowGreen
You cannot use a single watering can to water your whole garden; it will take ages! This is why you should buy a garden hose to water all your home garden and all of your bigger plants. GrowGreen Garden Hose is still the most preferred garden hose by gardeners due to its extensive features. It is an expandable garden hose that can extend up to three times its length. It is used to water the farthest corner of your garden. The adjustable nozzle has an 8 pattern-spray that lets you set the water pressure and spray radius according to your needs. This nozzle is corrosion-resistant and has a long-lasting lifespan. At the end of this garden hose, there is a brass connector that can easily be attached to any standard-sized spigot. This garden hose is easy to coil and easy to store as it is made of latex and has a compact structure.
Pros:
It is an extendable garden hose of about 50 feet in length.
The nozzle is adjustable and has different spray patterns.
It is lightweight and easy to store.
Cons:
The material is easily damaged if you use it on a rough pavement.
About Post Author