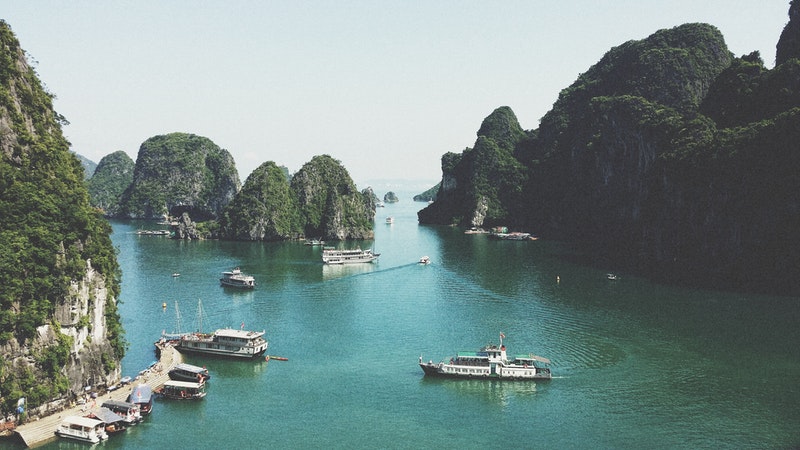 Unmissable Destinations to Visit in Vietnam
Destinations to visit in Vietnam: Southeast Asia has been blessed with a cluster of beautiful destinations. It would be an injustice to the region if we do not mention Vietnam one of the most visited tourist destinations. Irrespective of whether you are travelling on your honeymoon or on a family vacation, Vietnam has something to offer for everyone. Be it the delicious Vietnamese coffee or culture like no other, Vietnam should definitely be part of your bucket list of destinations. Apart from having a distinct history in terms of the Vietnamese war, it is also one of the most popular destinations for the budget traveller. If you are planning on a first international vacation, you can close your eyes and choose Vietnam. Here is a list of the unmissable destinations to visit in Vietnam to fulfil the wanderlust in you.
Hải Vân Pass
---
Alpine regions have a beautiful vibe of their own. The mountain that runs between the Laos border and spreads out onto the sea is one of the most scenic destinations that you can visit in Vietnam. The road trip experience in this place is on point with the hairpin bends offering views like never before. Hải Vân Pass is one of the ideal places if you are a motorbike lover where you can look forward to a lifetime of adventure.
Mũi Né
---
A fascinating name, right? So is the place. Waking up to the beautiful rays of the sun is an astounding experience in itself. The sunrise and sand dunes that you will find in Mũi Né will urge you to bask under the sun with a drink in your hand. Not only is this a paradise for beach lovers but you will also find a minimum number of tourists. This will be the perfect spot for you if you prefer some quiet time away from the flurry of city life.
Phú Quốc
---
This is the largest island in Vietnam where you will find pristine white sand beaches and turquoise-blue waters. Phú Quốc island is located very close to the border of Cambodia and is a paradise for watersport lovers. Beautiful palm trees swaying from side to side only add to the beauty of this place. Put on your swimming costume and indulge in an array of water sport activities when you visit Phú Quốc island.
Hội An
---
If you are someone who loves experiencing the old world charm, Hội An is the place to be. This is one of the most charming little towns in Vietnam, and you will think that it has been taken straight out of a picture book. You can take up a scenic boat ride along the rivers of Hội An and experience local culture at its best. Hội An would be one of the ideal places to head to if you prefer being one with Vietnam itself. Make sure you add this place as a must-visit location in your itinerary.
Huế
---
Yet another interesting name. Huế not only has an interesting name but also has an inspiring history. It was an imperial city in the past and most parts of it were destroyed during the Vietnam War by American bombs. The citadel still stands tall and a large part of its architecture is still intact. You can look forward to amazing Vietnamese cuisine when you visit Huế. Whenever you step into this place, get your taste buds ready and savour a scrumptious meal at a local restaurant.
Đà Lạt
---
Every tourist destination has to have a popular hill station right? Đà Lạt is one such place in Vietnam which should definitely be part of your itinerary. It is one of the best places to beat the heat and is very popular especially amongst family vacationers. If you are travelling from Ho Chi Minh City, Đà Lạt would be the perfect place to add as a stopover point. The beauty of this place is beyond words.
Sapa
---
This destination has growing popularity in Vietnam. It is known for having beautiful rice fields similar to that of Bali. If you are someone seeking an offbeat location, Sapa should definitely be your pick as it is largely untouched by time. There are also a number of brooks and mountains which are located in the vicinity of Sapa which are perfect getaways especially if you are a honeymoon couple. After all, doing something offbeat is the in thing right now!
Well, what are you waiting for? Go ahead and book your Vietnam packages today! To help you with the best possible options, you can count on renowned travel companies like Pickyourtrail. Not only do you have the option of customising your itinerary multiple times, but you can also look forward to on-trip support. Start planning your vacation to Vietnam today and have a memorable time along with your loved ones!
About Post Author