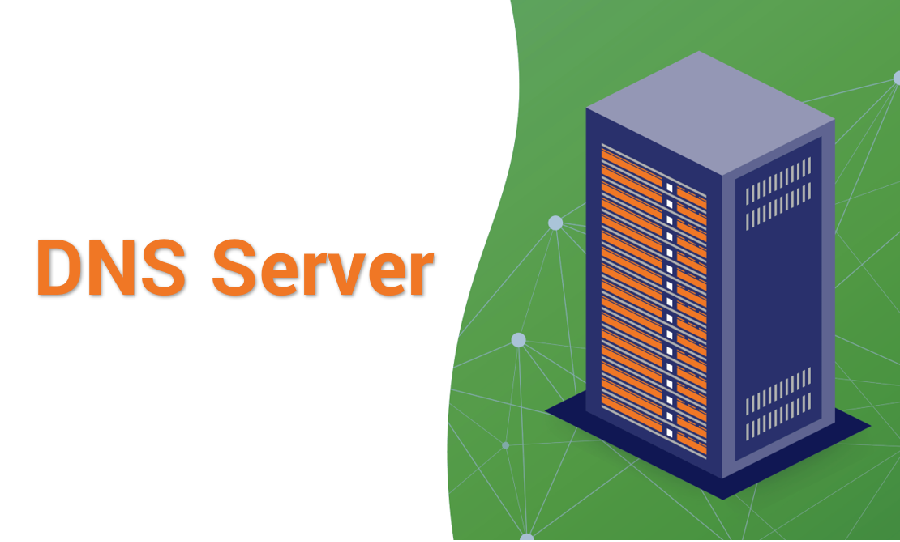 Top 11 Best Free DNS Servers Gaining Popularity in 2021
Best Free DNS Servers: The Domain Name System (DNS) is like the yellow pages used back in the old times to search for an address. It lets you surf the internet or live stream your favourite sports channel or music video. DNS servers are designed for translating the machine-friendly IP address to boost the server efficiency and help you get better speed than before. A reliable free public DNS server not only boosts your Internet speed but also eliminates some annoying technical errors.
So, here is a list of the top 11 free and public DNS servers that can make your professional or academic life easier.
---
Primary DNS: 208.67.222.222
Secondary DNS: 208.67.220.220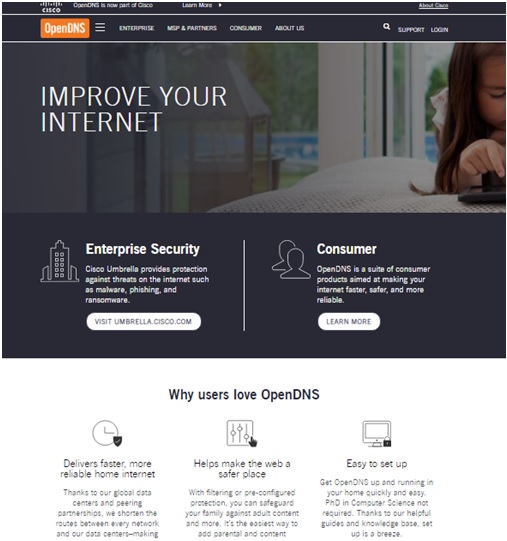 Currently, OpenDNS is one of the most popularnamesto be heardamong public DNS, especially for parents who are constantly worrying their kids might end up visiting adult websites. You will be able to block any website from loading on the computer by simply configuring OpenDNS. It is quite convenient even if you are a newbie since it provides setup instructions for routers, PCs, mobile devices, Macs and more.
Owned by Cisco, it uses Anycast routing to route the connection to the nearest DNS server so that you get faster page load times.It is also equipped with self-healing technology which can endure tremendous disruption to its infrastructure without harming the customers. In addition to that, it even takes care of the typos that you commit accidentally.
Benefits
Optional parental controls
High speed
Phishing attack blocked by default
100% uptime
Parental controls-type web filtering
Free email support when anything goes wrong
---
Primary DNS: 8.8.8.8.
Secondary DNS: 8.8.4.4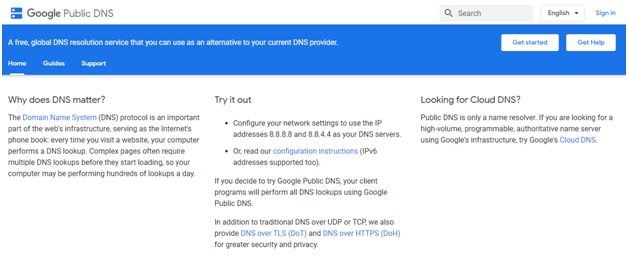 Launched in 2009, Google DNS servers are available worldwide. This server goes through continuous updating to match the industry level standards. You will be surprised to know that it is handling over a trillion DNS queries in a single day. It is gaining immense popularity for being the best custom-designed DNS service. The best part is it can provide the much-required latency boost, which eventually boosts the website's loading speed. According to a DNSPerf.com report, the worldwide average query speed of Google in July 2020 was 22,17ms that benchmarks commercial and public services. The only setback is itsmain focus is on experienced users, meaning newbies might struggle using this server. Hence, most IT industries are seen using Google Public DNS.
Benefits
Commendable transparency
High speed
Secure against DDoS and phishing attacks
---
Primary DNS: 1.1.1.1
Secondary DNS: 1.0.0.1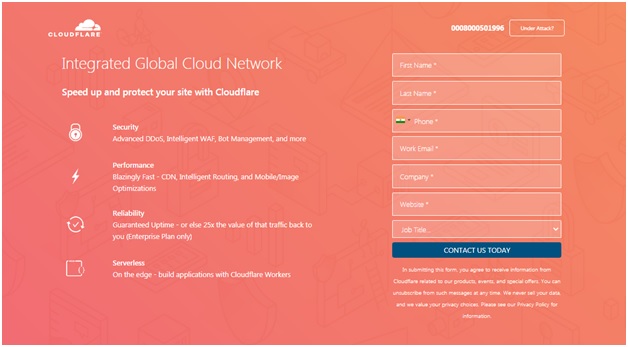 Cloudflare DNS has a huge infrastructure and network that enables them to stop larger DNS systems attacks. This is the most proffered server because it takes people's privacy very seriously. It will never save the logs of browsing data. Cloudflare also has setup guidance for Mac, Linux, Android, Window, iOS and routers. The best part is it gives you the freedom to monitor whatever you want to access and do not want.
The IPv4 version of Cloudflare public DNS:
Primary DNS: 1.1.1.1
Secondary DNS: 1.0.0.1
The IPv6 version of Cloudflare public DNS servers:
Primary DNS: 2606:4700::1111
Secondary DNS: 2606:4700:4700::1001
Benefits
Fastest response time
Advanced security to maintain the privacy
Built-in DNSSEC and DDoS mitigation
Unparalleled redundancy
Providing community forum for support
Global and local load balancing
Role-based access controls
7/365 technical support
Option for content filtering for adult content blocking and malware
Impressive performance
---
Primary DNS: 9.9.9.9
Secondary DNS: 149.112.112.112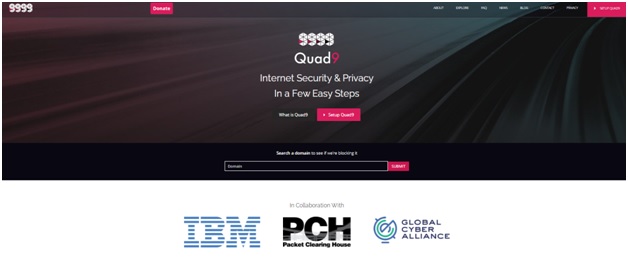 Launched in August 2016, Quad9 DNS largely emphasise security and privacy. The server supports both DNS over HTTPS (DOH) and DONS over TLS (DOT). This free DNS service is designed to protect all network devices from cyber threats.  The server uses DNSSEC to ensure the accuracy of the delivered results. It even uses blacklists supplied from various security providers for filtering out the websites that are harmful to the users. The average rate of DNS performance in the whole world is 7/10.
Benefits
Quick response rate
Complete security with your network privacy
Immediate blocking sites when detected unsafe
Maintains real-time perspective on the website-threat analysis
---
DNS.Watch can be the perfect choice for those who want to surf or browse the internet with any interruption of restricted content. It allows users to complete access to the fast and uncensored internet without paying anything extra. Due to its belief in DNS neutrality, you will not experience any reduction in internet performance. It supports a wide range of devices like Mac, PC, and Linux-based computers. It will not log on any DNS queries sent by the users' devices, thus maintaining user privacy. However, due to the lack of advanced security features, the website will not protect users from shady websites or cyber-attacks.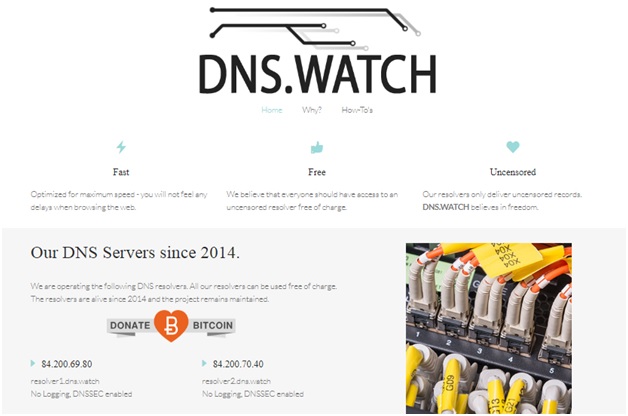 Benefits
Best unrestricted internet experience
Does not share or sell your data
Does not log your queries
No installation required
---
Primary DNS: 8.26.56.26
Secondary DNS: 8.20.247.20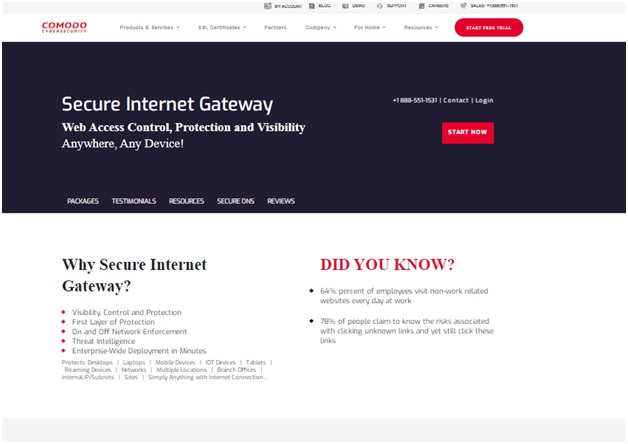 This is the best load-balanced and cloud based DNS you can ever find. It also has a very strong hold on safety. Its high-security system is known for blocking phishing attacks, warning visitors of malware domains whenever users access a site with potentially threatening content. The current spans node has Anycast DNS infrastructure, which is hosted in more than 25 countries.
Benefits
Fast internet speed
High level security for phishing and malware attacks
Completely free of cost
---
Primary DNS: 64.6.64.6
Secondary DNS: 64.6.65.6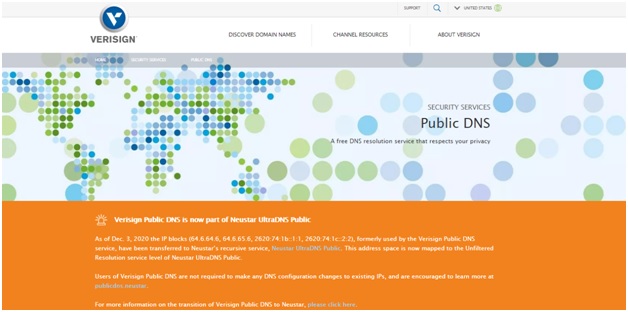 The top three best features of Verisign Public DNS are security, stability and privacy. The company also gives a complete assurance regarding not sharing DNS data with third parties. If you visit the official website, you will find a complete tutorial for setting up your public DNS. Despite its special features, this server's performance is only average as compared to other DNS services.
Benefits
High protection system against security flaws
Do not log your queries
Never share or sell data of users
---
Primary DNS: 198.101.242.72
Secondary DNS: 23.253.163.53
Alternate DNS is the latest DNS server you will find on the internet.  It received high appreciation from users for its uptime and reliability.  This particular DNS built on the premiere of harmful websites, adult content, trackers, and blocking ads. The server can be a backup in case your primary DNS server goes down.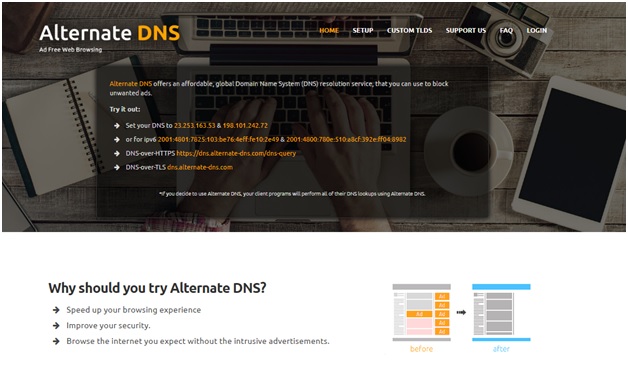 Benefits
Compatible with both IOv6 and IPv4 protocols
Suitable for secondary DNS resolver
Fast and efficient
---
Primary DNS: 185.228.168.168
Secondary DNS: 185.228.169.168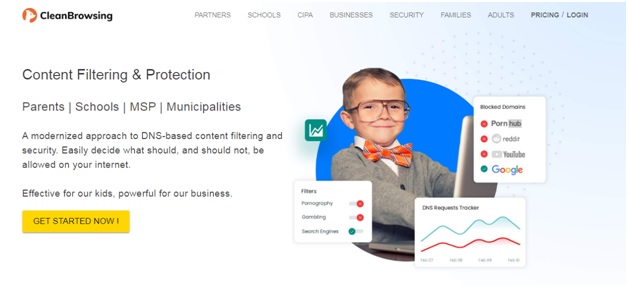 CleanBrowsing is highly suitable for parents who want to give their kids and families a safe web experience. It protects from malicious domains and phishing websites and can block adult content on the web. It even blocks websites that include mixed content like Tumblr and Reddit. Although it is primarily a paid service, there is a free tier that seems quite enough for users who just intend to use a simple DNS server. You will find 3 predefined filters under the free tier:
It has all the essential content filtering lists which make it one of the best DNS servers.
Benefits
Supports IPv16 protocol
Offers a free tier
Blocks adult content and malicious websites instantly
---
Primary DNS: 94.140.14.14
Secondary DNS: 94.140.15.15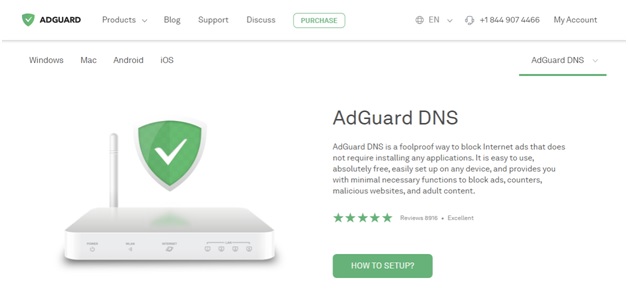 It involves two sets of DNS servers, and both are used for blocking ads, banners, pop-ups, malware, phishing, obscene content and web tracking in apps, web pages, videos and games. These DNS servers have MAC, Windows, Android and even native mobile versions. It also has the option "Family protection" which will help you block access to websites with adult content.
Benefits
No app required
Allows safe search in browsers
Does not log DNS queries
Blocks ads, trackers, adult content, analytics systems
---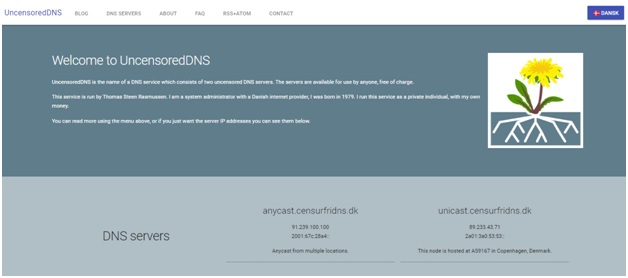 UncensoredDNS is equipped with a good set of performance enhancement and security features. You can count on this server for surfing the web without any restriction, but also fending off common attacks at the same time.
Benefits
Hassle-free experience
Safeguards the personally identifiable information
Smooth running interface
Fastest DNS server
Final Thought
That ends our list of the best free and public DNS servers that can give you the best user experience. When you connect to the internet, your ISP will automatically assign a DNS server. However, that may not be the best DNS server choice for you. If you want to enhance performance and better security, youmust make the best choice for your Device. Go through the above list mentioned above and let us know which DNS server gave you the best user experience.
AUTHOR BIO: Jordan Brown is a computer engineer at a reputed firm in the UK. He is also associated with MyAssignemnthelp.com, where he offers computer networking assignment help. Jordon is also a passionate musician.
About Post Author