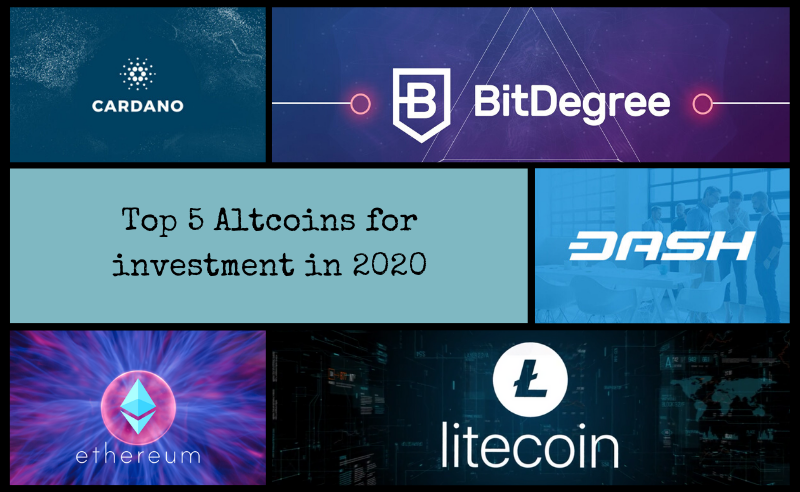 Top 5 Altcoins For Investment In 2020
Top Altcoins For Investment: If you have been regularly following the latest crypto news, then you might be aware of the fact that in April 2017, the cryptocurrency market was ranging around $25.9 billion. Now, in the current scenario, it has reached $409.47 billion. With such tremendous growth in the market, it spawned the fleet of fresh cryptocurrencies. These digital currencies are given a special name called 'altcoins'. As the name suggests, you can quickly understand what it means. Yes, this means coins which are alternative to Bitcoin. The latter coin does not belong to this category, because it is the first cryptocurrency who introduced the concept of cryptocurrency to the whole world. Although, there are thousands of altcoin options available, when it comes to picking the best ones, then it becomes a cumbersome task. So today, we bring you an extracted list of top 5 altcoins for investment in 2020. 
This blog will not be limited to the mere introduction of these altcoins, but will also let you update about their technology, specialty, past trends and what lies ahead in 2020. By the time you reach a conclusion, you will be equipped with the knowledge about these top altcoins. With such useful information, you can visit any financial expert, who will provide you with a good suggestion for planning in cryptocurrency investment for 2020. So let's begin our research with:
Cardano
---
Charles Hoskinson, one of the co-founders of Ethereum, is also credited for the foundation of Cardano in September 2017. It is among the list of top 5 altcoins for investment in 2020. Cardano is not limited to only providing a platform for smart contracts and Daaps but also for providing technological up-gradation over blockchains and Ethereum. Besides being a newbie cryptocurrency, Cardano, still, has proved its worth by grabbing a place among the best altcoins with a market cap of $8.86 billion.
Although, it is behind the other altcoins in terms of high returns, but is the preferred choice for the developers and investors, as it assures a strong blockchain that provides many benefits over Ethereum. During its launch in October 2017, Cardano has risen from $0.20 to $1.20 in January 2018. The motive behind the curation of Cardano was to resolve issues of scalability, continuity and software operability, faced by predecessor blockchain generations. Besides it, this altcoin is also efficient in resolving issues of time and money in the international payment transfer system. 
If you want to use a debit/credit card to buy Cardano, then Coinmama is the best option to look for. There are other exchanges which provide Cardano, so begin your purchase with Bitcoin Cash, Litecoin, Bitcoin and Ethereum, and then Cardano can be exchanged. 
BitDegree
---
While discussing the top 5 altcoins for investment, then it will be wrong to skip BitDegree, which was launched in 2017. It is a well-known online education platform powered by blockchain. The prime objective of BitDegree is to reform the system of education. Here payments are given to both teachers and students. BitDegree plays an important role in providing opportunities for earning by learning. This is the finest way of initiating in contemporary education. BitDegree is the fresh entry among the top altcoins which are being mentioned here. So in that way, it is not possible to find any ample investment history. If you follow the latest crypto news, then at present, it is trading at $0.039.
BitDegree is a complete platform more than just a cryptocurrency dreaming an education system that is low-cost and has no border limitation. It provides the opportunity for many inquisitive minds, worldwide, to learn and grow in making the best use of blockchain. The year 2020 seems to be special for BitDegree with many essential launches on the row.
Ethereum
---
The category of top altcoins is considered incomplete without Ethereum, the second-most popular cryptocurrency next to Bitcoin. This digital currency was developed by its founder, Vitalik Buterin in July 2015. Ethereum made a spectacular price growth in January 2017 with $9 to $1,389 in the next year (2018). Its price has now doubled up from April at $396 to $648, currently. As mentioned above, Ethereum is the second most well-known cryptocurrency after Bitcoin. 
Both these currencies are close competitors in the crypto arena. But there is something which sets apart Ethereum from Bitcoin, and it comes with help to developers with the provision of the platform in building decentralized apps and smart contracts which are blockchain-based. Ethereum is that platform that is greatly considered for the launch of ICOs (Initial Coin Offerings). 
So these are some of the prime reasons that show the worth of Ethereum among investors and developers. Although, this altcoin does lack scalability. The network is supportive to 15 transactions per second, which is much lower in comparison to 56K transactions per message of VISA. That is why Ethereum is keen to improve on these prevailing issues by upgrading its technology in 2020. 
Ethereum is not too behind in the popularity of Bitcoin, so you can buy it from any well-known exchange like Coinmama, Gemini, Coinbase, and CEX.io. The best part about these exchanges is the acceptance of credit and debit cards along with bank transfer.
Dash
---
Dash was launched in 2014 by Evan Duffield. But during this time, it was not known by its current name. It was called XCoin, from which it changed to Darkcoin, and then finally in 2015, it came to be known as Dash. Like forks of Bitcoin, Dash is a forked altcoin that spawned from Litecoin, which is established on the technology of Bitcoin. The reason which makes Dash, one of the popular altcoins for investment is better transaction speed and assured privacy which makes it fare better than Bitcoin. 
The price of Dash increased from $10 in 2017 to $1,540 in December. The percentage of return of this altcoin is around 15K%. Currently, the market cap of Dash is $3.79 billion, which makes it one of the promising altcoins for investment in 2020. If you compare Bitcoin with Dash, then you will find that the public address of the sender and receiver is familiar to all. But in Dash, addresses are concealed. This means there are no possible chances of tracing transactions. But it is possible in Bitcoin.
If you want to buy Dash with the credit card or bank transfer, you can opt for crypto exchanges like Kraken or CEX.io. Bitcoin can be exchanged for Dash at crypto exchanges like Poloneix, Shapeshift, and Bitfinex.
Litecoin
---
Coming on to our fifth option among the list of top 5 altcoins for investment in 2020 is Litecoin. This altcoin is a very decade old which was created in 2011 by Charlie Lee, the ex-employee of Google. Litecoin too shares some similar features with its elder sibling, Bitcoin, but with few changes. Rather, you can understand that the reason behind the launching of Litecoin was basically to overcome shortcomings of Bitcoin in terms of transaction speed, which is kind of snail-like. 
The reason for the inclusion of Litecoin among the top altcoins for investment is its market capitalization, which is $8.2 billion and a stupendous return of 8,000%. In January 2017, it rose from $4 to $350 in December. Presently, it is trading at $145 exceeding $121 during April 2018. If you want to buy Litecoin, then cryptocurrency exchanges like Coinmama, Kraken, Bitsquare, and Coinbase are the best to choose.
Conclusion
So these are the top altcoins for investment in 2020. In this blog, we provided you with their brief introduction, historical event, and the features that make these altcoins deserving to be included in the list. Getting to know about every altcoin like Dash, Ethereum, Cardano, Ethereum, and Litecoin, now it will be easier for you to choose any of these best options for investment in 2020. So which of the altcoins you are going to choose for investment. To whom do you tick on? Well, it's all up to you, to choose any altcoin. All of the above options are the best among other altcoins. So feel free to select any of them.
About Post Author