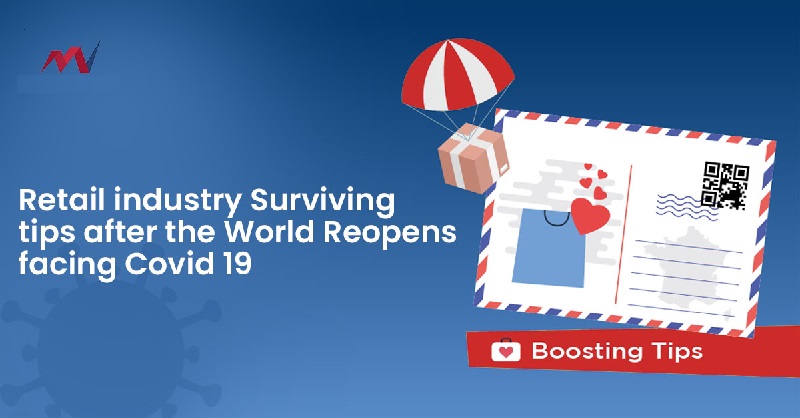 Retail Industry Surviving Tips After the World Reopens Facing Covid 19
Companies must focus on the immediate impact of Coronavirus (COVID-19), and support efforts to reduce the spread of the virus. Retailers, the healthcare sector, airlines and travel companies are all at the forefront of the crisis and will face enormous challenges in the coming weeks to address it effectively.
Are you Looking for: A website development company for your retail business
Retail is a troubled industry in many countries, with falling consumer demand and threats from online and discount retailers. The UK economy has been flatlining since Q4 2019, and leading indicators like business confidence indicate that over half of businesses see the virus as a threat to their business[2].
This is why retailers are already seeing the early effects of COVID-19 in China and increasingly Italy. Products from China fail to arrive on schedule. As the virus spreads, retailers will experience a decline in supply and demand. It's unlikely that both of these events will occur simultaneously due to the spread of the virus.
The COVID-19 environment is changing rapidly and retailers must respond accordingly. This will make a big difference in how they ride the waves. This is an opportunity for retailers to be more agile than their less agile counterparts and create the foundations for a digitally-savvy business in the future.
Retailers need to be able to adapt to these divergent challenges and make rapid commercial decisions to meet the changing realities. Our analysis shows that many categories have already seen a decline in demand, while China's supply has not returned to the levels expected. This is despite being a relatively early stage of the outbreak. Not only will strong leadership be required to stabilize the ship but also to make the necessary decisions and cross traditional lines of thinking.
While all retailers are currently working on this problem, they are already facing material consumer headwinds as well as falling margins. It is easy to see a scenario where only those who can quickly adapt will survive and those who cannot react effectively going out of business. To navigate this unprecedented and challenging situation, we recommend that retailers take six steps immediately.
1. Shift From Business Continuity To Crisis Management
Retailers are reviewing their business continuity plans to reassure customers, colleagues, manage supply chain constraints, and demand shocks. They prioritize critical business activities and create contingency plans in case of disruption. While this is a good start, it will not be sufficient if the situation continues at its current pace. Retailers need to plan ahead and create a flexible, agile and adaptable crisis management capability.
Management must adapt their business continuity plans to the current situation. It is difficult to adjust to changing situations, which means that pricing, staff management, logistics, and store operations will all change daily. The existing reporting frameworks, management tools, and annual and quarterly planning processes will not be enough to give the required visibility, command, and control.
Retailers should adopt a 'Control Tower" approach. This is where all information is gathered and compiled into one place that commands decision making. Along with rapid 80/20 decision making, it is important to use customised scenario modeling and contingency planning.
One example: Retailers will need to make decisions about which stores they want to keep open each day. It may be more beneficial to close stores that are not in stock or have low staff availability. In extreme cases, it might be possible to serve customers at other locations. Staff will be unable to work, especially if it affects specific areas or cities in a cluster. Customers are advised to stay home.
2. Scenario Plan To Survival Minimum
Many firms are still in the initial stages of their response. They manage the immediate issues for their staff and announce travel bans, cancel large-scale events, as well as implement quarantine periods. While this is important, it only scratches the surface of what retailers need to do.
Retailers should quickly consider how COVID-19 might impact their customers, suppliers, and own operations. We believe that three scenarios should be taken into consideration:
1.Worst comes to an end in just two to three weeks An acute crisis is usually resolved in a period of two to three months. Business can quickly return to normal after a significant 'bump' on the road.
2.It will take six months to regain control. A longer period of disruption lasting six months can lead to no growth or limited recession.
3.Pandemic that continues for 12+ months The virus spreads rapidly and the public is in an increased state of anxiety, triggering a global recession
Although we do not comment on which one is more likely, we suggest retailers think about all possible scenarios and prepare accordingly. The best way to adapt to uncertainty is to plan for survival.
Take care of supply constraints
Retailers will need to be able to identify the products most at risk, and then manage their pricing, promotions, and logistics to make sure that supply is available for as long as possible. Given their logistics knowledge, retailers are already doing this. This is business as usual for many players
Take control of your confidence decline
Retailers can make the most of the drop in demand as consumers tighten their belts. They will need to concentrate on the basics: managing short-term costs, optimizing choice and pricing, while still offering a reason to shop with them. Smart-thinking retailers have the opportunity to make the most of this situation.
Face staff shortages and drop in demand:
Retailers will have to make tough decisions about which stores, activities and channels they want to keep and which ones to close. This is the point where long-term investments are no longer viable. Retailers will have to make tough decisions about what they cannot afford to do.
Get to the minimum survival level:
Retailers will have to reduce their activities to support the day to day operation of the business in extreme situations. Retailers could experience volume drops of up to 80% or 90% if physical stores close.
Retailers who don't have a clear understanding of the minimum activity required for survival run the risk of incurring excessive costs and losing market share to others who are able to operate more efficiently. This must be done with care. It is important to cut investments necessary for medium-term survival.
No matter what happens in the coming months, retail is becoming more complex. This requires faster and better decision-making across all functions. Retailers will survive the new normal if they take proactive steps to address this threat.
3. Triage The Bricks & Mortar Estate Now
Each brick and mortar store will be affected by the different scenarios depending on local consumer demand and local competition. Retailers will need forecasts at the store level to determine the demand for their estate under every scenario. These plans will need to change as the market changes and staff availability changes.
Based on an assessment of sustainability of stores, we recommend a quick 'triage' process. Any model must reflect:
The local demand evolution at each store is a reflection of competitors and local events
The ability to offer either a partial or full service depending on the number of staff available
The ease with which logistics can be provided to each store depending on the specific location (and the strength of the local supply chains)
Although no retailer would want customers to shop at another competitor, it might be necessary in some essential sectors (e.g. Food retailers need to work smartly together in order to maintain service, even if one store is closed in each location. The responsibility to society may be greater than short-term competition in the end.
4. Deliver On The Demand For Digital, But Economically
If China is any indication, the demand for digital channels will increase dramatically in the coming days. China's online retailers experienced a 200-600 percent increase in customer demand during the epidemic. It has been declared that all non-essential shops have been shut down in Italy. This means that digital channels are the only way to fulfill customer needs in a large portion of the retail sector. This opportunity may cause additional financial problems for retailers as many find online order fulfillment to be more costly than brick-and-mortar. We recommend that retailers take advantage of this opportunity.
Scenario plans around spikes of digital channel usage to make sure that systems remain online in the event of a 600% increase in demand
Maximize the use of your assets (e.g. delivery vans, distribution centres, etc.) You can reduce costs while still being able to meet additional demand. If possible and economically feasible, increase capacity so customers don't have to shop at competitors. Food retailers might choose to open some supermarkets as semi dark stores, which are closed to customers but can fulfill online orders.
Optimize your online offer to make it as economical as possible. To limit the purchase of essential goods and ensure that the products are available to as many customers as possible, it is important to limit the purchases. You should identify which products are not economically viable to sell online and offer them only where it makes economic sense (e.g. As part of larger baskets
Your delivery chain should be as human-to-human as possible. What will you do if your customers are unable to meet the courier and sign for delivery? While most retailers have these processes in place, they might need to be extended for all deliveries.
You can reduce the costs of ordering online fulfillment. To take advantage of the supply chain advantages, this could mean working with other competitors to deliver product to customers. Customers no longer desire to have contact with delivery drivers and this has reduced the chances of effective contact.
5. Plan For The Long Haul
Retailers must manage their finances in the long- and short-term. While cutting costs may be a good way to survive in the short-term, it is not the best way to ensure long-term success.
It starts with understanding the current and future plans for all initiatives, as well as the existing ones. Retailers must now make hard decisions about which investments and activities are necessary for survival or long-term success.
These are the initiatives that deserve to be continued:
Realisable cost savings are more important than revenue growth in order to quickly create value given the potential reductions in demand
Clear, quantifiable outcomes that are easily tracked and redirected when necessary (without hindering progress).
Do not rely on a small team that isn't flexible. They may fail at one point. If necessary, reallocate members from paused initiatives to improve delivery.
It will take strong leadership to comprehend the needs of all parts of the business, and to make the necessary decisions. If a program is critical, ensure that it is supported by senior leadership.
6. Be Force For Good For Your Customers
Everyone will face challenges in the coming weeks and months. Retailers have an important role to play in reassuring customers as well as the wider community.
Retailers must balance their financial needs with the community role they play. An open supermarket can provide reassurance for some customers that they are not the only ones.
China's experience shows that retailers can be a positive force. The retailers will play an important role in protecting and feeding the communities that are being quarantined. These policies and processes will be modified to limit sales of certain products and deliver other companies' products to their delivery drivers. This will ensure that everyone receives what they need.
Author Bio
Ahmad Sultan is a Sr. Content Writer at MightyWarner a leading Mobile App Development Company in Dubai. He has 5+ years of experience in content creation, content strategy, and PR for technology and web-based startups. Ahmad is keen on learning new trends surrounding digital marketing, app development, and social media marketing.
About Post Author