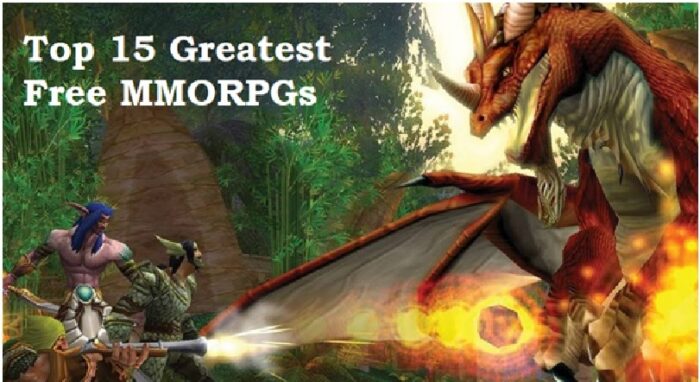 15 Best Free MMORPGs You Should Play in 2023!
If you are looking for Top Free MMORPGs for iPhone, here are 15+ pre-eminent Best Free MMORPGs You should Play in 2023.
Are you a video game freak? Well, if yes! You would be well-aware of the term MMORPGs (Massively multiplayer online role-playing games). Well, these are the games that are beyond our imagination. It is like combining the virtual world with the real world. Although you can also term it as one of the AR games, most users know it as MMORPG.
Known by its name, this virtual multi-user game gives the user a chance to immerse in the simulated world. It not only gets you immersed in the virtual world but also helps the user to communicate with other users and fight the opponents. But for that, you need to customize yourself into the atmosphere of the game.
Top 15 Greatest Free MMORPGs
Have you seen a movie named Tron? If yes, You would also know how a user gets into his father's developed game and fights with the opponents by teaming up with other programs. Well, this online game is not similar to the film. But it immerses you entirely in the virtual world. And you also have to squad up with new programs/users to take down your opponent.
So, if you are watching for Top MMORPGs for iPhone, here are 15+ pre-eminent Free MMORPGs You must try.
Rangers of Oblivion 
---
If you are a gamer who is a big fan of games that provides an opportunity to hunt down the monster, then you will always like this game. In this digital entertainment medium, you get a chance to gang up with your mates and fight with a plethora of hunters moving around in the game.
Further, this mobile entertainment medium offers you a chance to experience the actual combat along with a virtual world, full of surprises. So, if you are a smart game enthusiast, this game is all you need. Playing this game will offer you full-packed entertainment and help you gain a lot of skills.
Evil lands 
---
The next in the list of entertainment sources is Evil lands. It is one of the best fantasy games in the list of Android and iOS games. This game is an open environment of fantasy games where you will get a chance to play several roles., like a combatant, wizard, or assassin.
Now you need to decide what role is your fantasy and what character will you choose? Along with a great option to choose your game, you also get nice graphics with encouraging music. This will help you fight with your enemy with more enthusiasm.
Further, this entertainment source also helps you discover diverse types of surroundings to play in. It includes surroundings like the forest, mountains, River Bridge, and many more.
World of Kings  
---
You might have guessed by the name; this MMORPG is a game that takes you to the virtual sphere of Kings. This entertainment source in smart devices allows you to play the character of a king to fight your best with inevitable opponents.
The best part about this smartphone entertainment is it allows up to 25 users to connect and play with you. So, you get the chance to make a massive team so that you can easily fight and win against hardcore opponents. This game is exclusively available on both platforms, iOS and Android.
So, if you want to be a warrior and fight with your team, this entertainment source gives you the best shot to find entertainment and thrill.
Arcane Legends 
---
If you are in the sphere of smart device games, you should know that this immersive entertainment source is one of the old games on the list of MMORPG. In fact, this game has an exclusive fan base. The element that makes this game the most playable oldest game is its feature. Features like enabling users to join unions make it a preferable online source of entertainment.
Further, if you are an animal lover, this is a game for you! This interactive source of entertainment allows you to gather characters that act as your tame. So, you can also grow them and use them in your game to defeat your opponents. The source of amusement that offers you a chance to grow in-game tame animals is an addictive game.
Ragnarok M 
---
Next in the list of amusing games comes one of the most passionate games. Yes! You are reading it right. This smart device amusement released in 2002 is an MMORPG that comes with impactful graphics and animation. This never-aging game offers you a passionate character to gang up with new users and defeat your enemy.
Lineage 2 
---
For those who don't know about Lineage, this smart device amusement source is based on the desktop version of Lineage II. And the most astonishing fact about this immersive entertainment medium is its multi-user capacity.
The game allows more than 200 users to connect at a time. So, here in this game, you get a fair chance to create your union to make it more convenient. All you need to do is attack the bosses with your union.
Adventure quest 
---
Are you looking for an MMORPG that lets you connect with your friend and battle the enemy? Are you looking for an MMORPG that is more audacious? If yes! Adventure Quest is that source of immersive entertainment that offers you exactly what you need!
Compatible with platforms like iOS and Android, this action-packed game offers you a stage to battle with your inevitable enemies. And you are not alone in your journey. You get a fair opportunity to make a union with your friends and defeat your common enemy to conquer several places.
RuneScape  
---
Next in the list of immersive virtual entertainment comes RuneScape. This medium of entertainment offers you unrestricted as well as a funded subscription to try your hands on. Although it provides you a paid membership, you will also enjoy the free one instead.
This is because, this game offers you a virtual sphere where you can lead a combatant life by performing several activities. You not only fight to team up, but you also have to fulfill your daily essentials.
Order and Chaos II 
---
Developed by Gameloft, this MMORPG is a highly immersive medium of entertainment. It is accessible on both the iOS and Android platforms. This hyper-interactive game takes you on tour to a sphere where you have to participate in five diverse races of five different classes.
Dungeon Hunter V 
---
If you are an old player of the mobile gaming world, this game will attract you the most. This MMORPG is a hyper immersive source of entertainment that connects you with multi-users to defeat several unions. But one more thing that you need to take care of is defending your gold from opponents. So, make your union and try the best immersive MMORPG.
Toram 
---
If you are in love with the sphere of animation, you will love the next game in the list, called Toram. This hyper immersive source of entertainment is solely distinct. It is not like your traditional MMORPGs. In this game, you need to suit up as a character to knock down your common enemy with endless powers.
Rucoy 
---
Although it might not match up to your expectation in terms of graphics, you will definitely love the game. This immersive game is like your traditional video games, where you have to acquire distinct regions. The game comes for both iOS and Android. So, you can install and start playing now!
Black Desert mobile  
---
Those who have already mastered the desktop version of this hyper-interactive entertainment source might like the mobile version. In the comparatively tiny display, you have to make your union to show your combat skills. The game is available on both the Android and iOS platforms. So, you can install it now to start enjoying it.
Villagers and heroes 
---
If you are not the type of player who loves hardcore games, this is the best smartphone entertainment source. This interactive game enables you to unite with users and play the characters as heroes to protect villagers. You also do get a chance to live the daily activities in the game. So, you can start installing the game on your iOS/Android device to get the best source of entertainment.
Crusaders of light 
---
Crusader of light may be the last on the list, but it is one of the best immersive games to put your hands on. It doesn't matter if you are craving action or entertainment; this game offers you packed entertainment for free. In this game, you will discover diverse ranges of characters to act as. You also get a huge imaginary sphere to discover and find out your inevitable enemy.
But you need to make a union and defeat your opponent. The game also offers you several animals as a character. You can make them your pet and use them in your journey. Isn't that great! So, what are you waiting for! You must start playing all these games immediately.
Endnote
Winding up the article, these were the 15 greatest of all times MMORPGs to try your luck at in 2023. So, you must install them on your smartphones to start exploring the  unexplored.
About Post Author