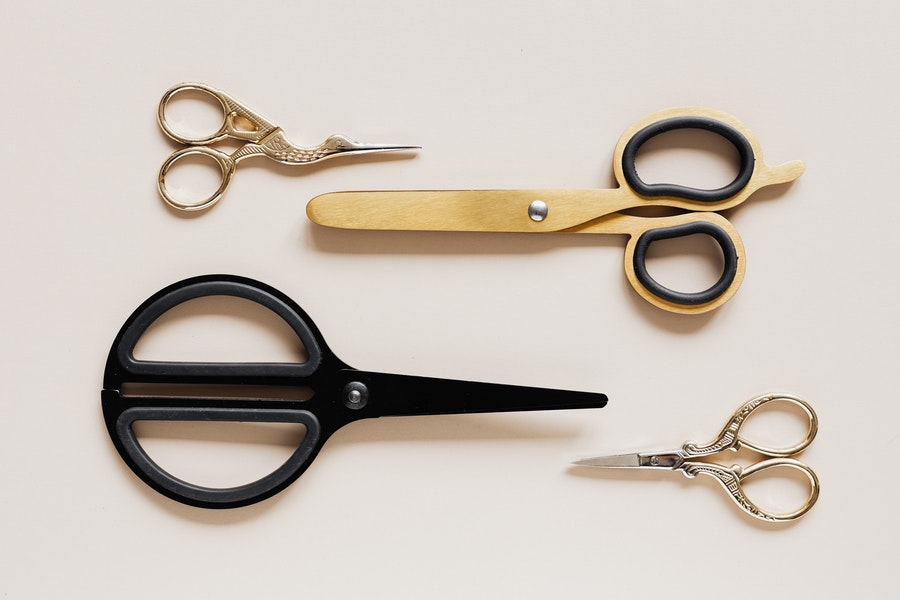 How to Choose the Right Scissor Type?
Types of Scissors: Whenever we talk about the creative fields, having the right tools can turn the tables on your side. If you are an avid embroiderer or digitizer, there are numerous must-have tools to keep your projects up and to run. But do you know what the most overlooked tool of embroidery is? Yet, it is the most important – "Scissors."
Why are Embroidery Scissors Important?
---
Your scissor collection might seem trivial to non-embroiderers, but it may prove to be your embroidery hack for you. A good pair of scissors has various benefits. It will cut your thread smoothly. You don't have to worry about risk fraying. It is quite challenging to thread the eye of the needle if the floss is left to pray. Frayed threads can also cause twisting in strands or will get caught when you pull the needle through your fabric. This, in turn, can affect your overall stitching.
Besides sharpness, scissor size is also important to consider. And you should avoid stitching with general craft scissors. It is better to have a pair of scissors that are 3 to 4 inches long as you will get more control over the stitching, and you will be able to get clearer cuts.
Now let's talk about the difference between embroidery scissors and thread snips.
Thread Snips Vs. Embroidery Scissors
---
Thread snips are a type of scissors that look different from the conventional pair. They are a good option when you want to clip your embroidery floss. Thread snips are used for trimming excessive threads – they are not for cutting fabric.
Thread snips don't have looped handles and are lightweight. They are spring-loaded. You have to give them a light squeeze, and they will trim the thread. They are a great choice for people with arthritis. The downside for thread snips is that they have broader blades than embroidery scissors. They are fine for trimming thread, but they are not good for clipping errant stitch from fabric.
One thing you need to keep in mind is whenever you plan to buy a pair of scissors, make sure they are sharp and long and use them only to cut fabric and thread. Always use quality scissors for your embroidery project.
You can find several different scissor types that can help you make your embroidery project perfect.
How to Select Embroidery Scissors
---
There are three main factors you need to look for when choosing embroidery scissors.
Size: It is better to go for the size that works for you.
Design: When we talk about the design, we usually refer to the scissor blades. You can design according to your project requirements.
Ambidexterity: Some scissors are designed to be ambidextrous. You can choose them if needed.
Types of Scissors
---
Straight Tip Scissors
These are the most common types of scissors. They have slender blades with fine points and are helpful to cut close to fabrics. The finer the scissor point, the closer they can get to the fabric. They are also spring-loaded scissors with micro tips.
Curved Tip Scissors
These scissors have slender blades curving upwards at the tip. They have fine points that allow for cutting close to the stabilizer or fabric while it is still in the hoop. However, not every curved tip scissor has the same blade thickness. You will find some extremely fine and works perfectly with cutwork and lace.
Double-Curved Scissors
These types of scissors are best for cutting over hoops without visual obstruction. Double curve scissors decrease fatigue and allow for precision cutting as they have finer tip than others.
Micro-Curved Tip Scissors
Micro-curved tips scissors are similar to curved scissors. Their main benefit is that they provide a narrower extra-fine blade.
Steel-Tip Curved Scissors
These types of scissors are best to get under stitches without ripping the fabric as they have a thin round tip with sharp blades.
Hook-Blade Scissors
Hook-blade scissors work best to get under one stitch and cut close to the embroidery or fabric. You can also clip stitches from the reverse side; one stitch at a time.
Bent-Handle Scissors
Bent-handle scissors have a straight blade parallel to the embroidery fabric. The handle is raised so that it is above the embroidery work.
Thread Snips or Clips
Snips or clips are best for snipping and pulling threads. They have shorter blades and come with or without holes. You can also clip threads on the front or backside of the embroidery.
Applique Scissors
Also known as Duck Bill, applique scissors come with spring-loaded and regular. Due to their shape, you can do close trim without cutting and nicking the fabric.
Swivel Handle Scissors
With Swivel Handle Scissors, you can do snipping and cut efficiently. These scissors decreases stress and joint pain.
Conclusion
This is all you may need to know for choosing the right scissor type. If you have questions about the topic, please reach out to us on our website Migdigitizing. We will be happy to assist you.
About Post Author